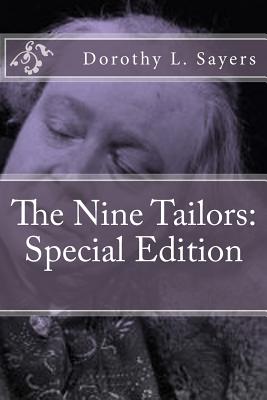 The Nine Tailors (Paperback)
Special Edition
Createspace Independent Publishing Platform, 9781986783064, 530pp.
Publication Date: March 29, 2018
Other Editions of This Title:
Paperback (7/20/2017)
Paperback (9/28/1966)
Paperback (9/21/2017)
* Individual store prices may vary.
Description
Lord Peter Wimsey and his manservant Bunter are halfway across the wild flatlands of East Anglia when they make a wrong turn, straight into a ditch. They scramble over the rough country to the nearest church, where they find hospitality, dinner, and an invitation to go bell-ringing. This ancient art is steeped in mathematical complexities, and tonight the rector and his friends plan to embark on a nine-hour marathon session to welcome the New Year. Lord Peter joins them, taking a step into a society whose cheerful exterior hides a dark, deadly past. During their stay in this unfamiliar countryside, Lord Peter and Bunter encounter murder, a mutilated corpse, and a decades-old jewel theft for which locals continue to die. In this land where bells toll for the dead, the ancient chimes never seem to stop. We are delighted to publish this classic book as part of our extensive Classic Library collection. Many of the books in our collection have been out of print for decades, and therefore have not been accessible to the general public. The aim of our publishing program is to facilitate rapid access to this vast reservoir of literature, and our view is that this is a significant literary work, which deserves to be brought back into print after many decades. The contents of the vast majority of titles in the Classic Library have been scanned from the original works. To ensure a high quality product, each title has been meticulously hand curated by our staff. Our philosophy has been guided by a desire to provide the reader with a book that is as close as possible to ownership of the original work. We hope that you will enjoy this wonderful classic work, and that for you it becomes an enriching experience.
or
Not Currently Available for Direct Purchase