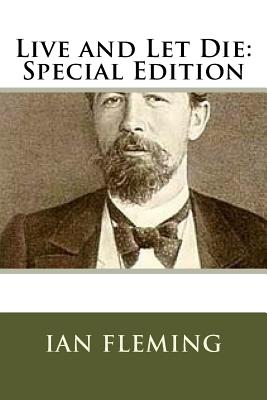 Live and Let Die (Paperback)
Special Edition
Createspace Independent Publishing Platform, 9781986835770, 344pp.
Publication Date: March 29, 2018
Other Editions of This Title:
Paperback (9/27/2018)
Paperback (5/27/2003)
Compact Disc (1/1/2009)
Mass Market Paperback (7/1/1987)
Compact Disc (12/1/2000)
* Individual store prices may vary.
Description
Her hair was black and fell to her shoulders. She had high cheekbones and a sensual mouth, and wore a dress of white silk. Her eyes were blue, alight and disdainful, but, as they gazed into his with a touch of humour, Bond realized that they contained a message. Solitaire watched his eyes on her and nonchalantly drew her forearms together so that the valley between her breasts deepened. The message was unmistakable. Beautiful, fortune-telling Solitaire is the prisoner (and tool) of Mr Big-master of fear, artist in crime and Voodoo Baron of Death. James Bond has no time for superstition-he knows that this criminal heavy hitter is also a top SMERSH operative and a real threat. More than that, after tracking him through the jazz joints of Harlem, to the everglades and on to the Caribbean, 007 has realized that Big is one of the most dangerous men that he has ever faced. And no-one, not even the mysterious Solitaire, can be sure how their battle of wills is going to end... We are delighted to publish this classic book as part of our extensive Classic Library collection. Many of the books in our collection have been out of print for decades, and therefore have not been accessible to the general public. The aim of our publishing program is to facilitate rapid access to this vast reservoir of literature, and our view is that this is a significant literary work, which deserves to be brought back into print after many decades. The contents of the vast majority of titles in the Classic Library have been scanned from the original works. To ensure a high quality product, each title has been meticulously hand curated by our staff. Our philosophy has been guided by a desire to provide the reader with a book that is as close as possible to ownership of the original work. We hope that you will enjoy this wonderful classic work, and that for you it becomes an enriching experience.
or
Not Currently Available for Direct Purchase