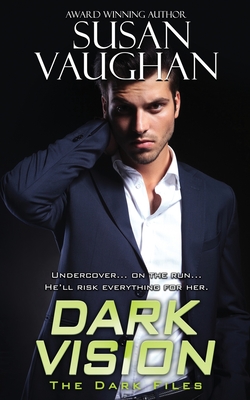 Dark Vision (Paperback)
Createspace Independent Publishing Platform, 9781987513813, 222pp.
Publication Date: April 23, 2018
* Individual store prices may vary.
Description
NEW COVER
Part of a series, but a stand-alone novel with its own conclusion. No cliff-hangers.
Undercover...Shrapnel damage to DARK Officer Matt Leoni's eye could cost him his vision and the only family he has, his colleagues. Chafing at desk duty, he jumps at a gig to find a traitor in the U.S. embassy of a small Mediterranean country. But Matt's undercover role means working with Nadia Parker, a documentary filmmaker who believes he betrayed her five years ago to get evidence on her father. Worse, Matt still wants her and has orders to spy on her.
On the run...Despite Nadia's anger at having Matt in her film crew, she can't deny her renewed attraction to him. When rebels set off an explosion in the crown princess's office, embassy security believe Nadia and Matt are the bombers. In the smoke and confusion, Matt pulls Nadia to safety and they flee into the streets of Washington.
He'll risk everything for her.Unable to rely on DARK or the authorities, Matt is determined to protect Nadia, clear her name and find answers. As they work together, trust grows between them and leads to passion, but both harbor secrets that could tear them apart. A bold plan to foil the traitor's assassination plot could place Nadia in the crosshairs, and time is running out.
About the Author
Susan Vaughan is a multi-published and award-winning author. Her books have won the Golden Leaf, More Than Magic, and Write Touch Readers' Award and been a finalist for the Booksellers' Best and Daphne du Maurier awards. A former teacher, she's a West Virginia native, but she and her husband have lived in the Mid-Coast area of Maine for many years. Find her at www.susanvaughan.com or on Facebook at www.facebook.com/SusanVaughanBooks or on Twitter @SHVaughan.