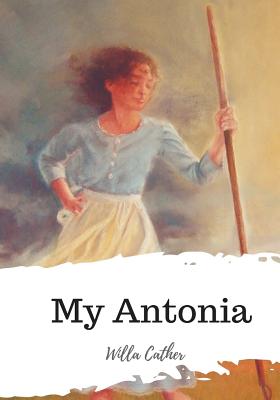 My Antonia (Paperback)
Createspace Independent Publishing Platform, 9781987650143, 144pp.
Publication Date: April 8, 2018
Other Editions of This Title:
Paperback (6/27/2017)
Paperback (7/4/2018)
Paperback (6/2/2018)
Paperback (6/28/2017)
Paperback (12/8/2016)
Paperback (8/8/2016)
Paperback (10/7/2016)
Paperback (8/17/2017)
Paperback (4/11/2017)
Paperback (6/27/2018)
Paperback (4/23/2018)
Paperback (6/5/2018)
Paperback (6/25/2017)
Paperback (11/22/2017)
Paperback (10/14/2016)
Paperback (9/7/2016)
Paperback (6/8/2018)
Paperback (5/8/2017)
* Individual store prices may vary.
Description
The eldest daughter of Bohemian emigrants, fourteen-year-old ntonia Shimerda arrives in Black Hawk, Nebraska, blissfully unaware of the poverty and heartbreak that lie in store for her family. But as one calamity after another befalls the Shimerdas, ntonia finds the strength not merely to survive, but to thrive. Under the watchful eye of Jim Burden, her neighbor and childhood friend, ntonia blossoms into a woman as beautiful, captivating, and resilient as the Great Plains. Told in lush and evocative prose, My ntonia is a masterpiece of twentieth-century literature and a stirring tribute to the homesteaders whose pioneer spirit tamed the American West.