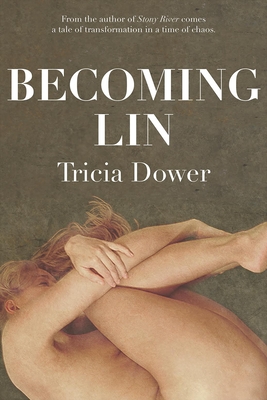 Becoming Lin
Paperback

* Individual store prices may vary.
Description
It's 1965. Twenty-two-year-old Linda Wise despairs of escaping her overprotective parents and her hometown, where far too many know she was sexually assaulted as a teenager. Deliverance arrives in the form of marriage to the charismatic, twenty-six-year-old Ronald Brunson, a newly ordained Methodist minister who ignites her passion for social justice. Ron tells her war and racial discrimination are symptoms of the "moral rot" destroying the country, conjuring up something dark and rancid in her mind, thrilling in its wickedness. He sweeps her away from Stony River, New Jersey, to serve with him at a church in a speck-on-the-map prairie town in Minnesota. What lies ahead for her over the next seven years is the subject of Tricia Dower's penetrating study of a marriage and a woman's evolving sense of self as she confronts the trauma that keeps her from her future, unfettered self. BECOMING LIN evokes the turbulent era of Freedom Riders for civil rights, Vietnam war resistance, the US government's war against the resisters, sisterhood and the push for equal rights for women, new-age metaphysics, motivational psychology and the unravelling of the traditional marriage contract - an era that resonates in today's persistent racism and sexism, perpetual war and wide-reaching government surveillance.
Praise For Becoming Lin…
"Some of the most powerful and eloquent Canadian novelists of the 20th and 21st century belong to this tradition, including Margaret Atwood, Margaret Lawrence and Ethel Wilson. These are authors who open up what had been cloaked in silence, the oppression of women and their self-discoveries in resistance. We can now add to this important liberation canon the name of Tricia Dower…" — The Vancouver Sun

"In Becoming Lin Tricia Dower has established herself as a literary force to be reckoned with. This quietly compelling novel accomplishes the magical—it allows us to become ourselves at the same time we watch this great Canadian heroine become herself. Touching, genuine, visceral and real." — Richard Wagamese, Award-winning author of Indian Horse and Medicine Walk

"Set in small town Minnesota at a time when the Vietnam War was being fought and resisted, Becoming Lin is utterly convincing—a fascinating, absorbing blend of history and the domestic, as well as a powerful reminder of the personal cost paid for the freedoms and rights we are still struggling to maintain." — Kathy Page, Celebrated author of The Story of My Face, Alphabet and Paradise & Elsewhere

"Becoming Lin encaptures with poetic flair and sensual detail the turbulent and passionate era of the sixties with all of its political, social and emotional strife." — Donna Morrissey, Award-winning author of Kit's Law, Downhill Chance, Sylvanus Now, What They Wanted and The Deception if Livvy Higgs

"Dower examines many facets of social isolation, oppression and the essential fight for self-expression. Both feisty and funny, Dower is determined to keep talking about important issues—and is also clearly frustrated" — Amy Reiswig, FOCUSonline

"Reading Becoming Lin reminded me of discovering Marilyn French's The Women's Room and Marge Piercy's Small Changes. Two unapologetically feminist novels which I felt had poured out of my own heart into some other writer's story. I inhaled these books, and I felt the same sense of intense recognition and kindred-spirit-ness in Tricia Dower's newest novel." — Marcie McCauley, BuriedInPrint.com
Caitlin Press Inc., 9781987915075, 240pp.
Publication Date: March 20, 2017
About the Author
Tricia Dower's heart has a home (and citizenship) in two countries. Born in Rahway, New Jersey, she's lived in Canada since 1981. A graduate of Gettysburg College with a degree in English literature, she's taught school and worked in marketing, advertising, human resources and corporate communications in Georgia, New Jersey, Minnesota, Illinois and Ontario. These days she has the luxury of writing in Brentwood Bay, British Columbia, a beautiful part of the world. BECOMING LIN is her third book. Her short story collection, SILENT GIRL (Inanna 2008), was long-listed for the Frank O'Connor Award and the George Ryga Award for Social Awareness in Literature. Her debut novel, STONY RIVER (Penguin Canada 2012), was shortlisted for the Canadian Authors Association Fiction Award. Her short fiction has appeared in magazines in Canada, the US and Portugal. In 2010 she won first prize for fiction in the MALAHAT REVIEW's Open Season Award.
or
Not Currently Available for Direct Purchase