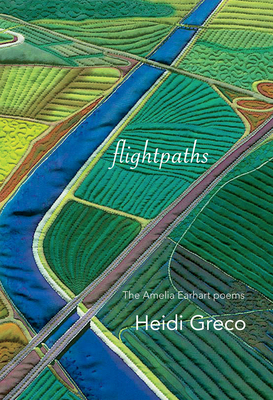 Flightpaths (Paperback)
The Lost Journals of Amelia Earhart
Caitlin Press Inc., 9781987915471, 96pp.
Publication Date: September 26, 2017
* Individual store prices may vary.
Description
On the 120th anniversary of Amelia Earhart's birth and the 80th anniversary of her disappearance, award-winning poet, Heidi Greco revitalizes what we know about the iconic aviator through uplifting and historically mesmerizing verse.
If most people were asked what they know about Amelia Earhart, they'd probably respond with something like "Wasn't she that pilot who went missing when she tried to fly around the world?"
Although that much is true, Earhart was so much more. She was a feminist at a time when women were just beginning to make inroads towards equality. She was a best-selling author who made appearances and speeches that inspired many. In addition, she was a pacifist, a poet, a punster – the list could go on. She was ahead of her time in so many ways, right down to the no-nonsense clothes she wore (many of them fashioned after her own designs).
To this day, her disappearance is enshrouded in mystery, with many questions remaining. Was she on a secret mission, spying for her country? Was she captured by the Japanese and held in a prison camp? Or did she and her navigator simply crash and die?
The poems in this collection, presented as if written by Earhart herself, consider some of the many theories that attempt to explain her disappearance. Through logbook entries, recollections and letters, the work explores some of the various flightpaths she may have taken.
About the Author
Heidi Greco is a longtime resident of Surrey, BC. In addition to writing and editing, she often leads workshops – on topics that range from ekphrastic poetry to chapbook making. She's been an advocate for the literary arts in her community and was instrumental in establishing two distinct reading series, but she considers her greatest success to have been convincing her city to hire an official Poet Laureate. She writes in many genres – with poems, fiction, essays and book reviews to her credit. Her books include a novella, Shrinking Violets which was co-winner of the Ken Klonsky Award in 2011. Her work has also appeared in many anthologies, most recently in Make it True: Poetry from Cascadia (Leaf Press, 2015) and The Revolving City: 51 Poems and the Stories Behind Them (Anvil, 2015). In addition to making Sunday suppers for her adult sons, she keeps a sporadic blog at outonthebiglimb.blogspot.ca.
Praise For Flightpaths: The Lost Journals of Amelia Earhart…
"Flightpaths: The Lost Journals of Amelia Earhart slips easily from windowpane prose to lyric as Heidi Greco delivers the realities, the fantasies, the possibilities of Amelia Earhart's last flight over the Pacific Ocean with a complex simplicity that gives us both what probably was and what might have been — building a poem/story of a life bigger than history." — Brian Brett, author of Tuco: The Parrot, The Others, and The Scattershot World
"In this unique and intriguing fictional tale, Heidi Greco convinces us that Amelia Earhart's Lockheed 10 Electra went down near a remote Pacific island. This tragic event, and the disappearance of Amelia's plane into the ocean, leaves the reader wondering what happened to this brave pilot who accepted the challenge of a world flight in 1937." — Ann Holtgren Pellegreno, Pellegreno was the first to fly a Lockheed 10 Electra around the world on the Earhart Trail. On July 2, 1967, she dropped a wreath on Howland Island.
"I am not one to read a lot of poetry, but when combined with contextual passages and based on a historical event, my interest was piqued and my imagination stimulated by the fascinating concept that Ms Greco has penned. Recommended." — The Miramichi Reader
"Heidi Greco puts belief in the hands of the reader. […] Poetry that transports is a hard currency to deny. Flightpaths is money." — Today's Book of Poetry
or
Not Currently Available for Direct Purchase