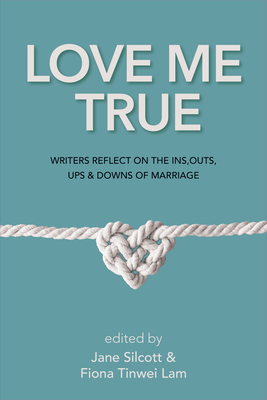 Love Me True (Paperback)
Writers Reflect on the Ins, Outs, Ups & Downs of Marriage
Caitlin Press Inc., 9781987915662, 256pp.
Publication Date: March 28, 2018
* Individual store prices may vary.
Description
What keeps us together? What breaks us apart? In Love Me True, 27 creative nonfiction writers and 16 poets explore how marriage and committed relationships have challenged, shaped, supported and changed them. The stories and poems in this collection delve deep into the mysteries of long-term bonds. The authors cover a gamut of issues and ideas--everything from everyday conflicts to deep philosophical divides, as well as jealousy, adultery, physical or mental illness, and loss. There's happiness here too, along with love and companionship, whether the long-term partnering is monogamous, polyamorous, same-sex or otherwise. From surprise proposals, stolen quickies, and snoring to arranged marriage, affairs, suicide, and much more, the wide-ranging personal stories and poems in Love Me True are sometimes funny, sometimes harrowing, and always engaging as they offer their intimate and varied insights into the complex state that is marriage.

Editors Jane Silcott and Fiona Tinwei Lam have assembled work from notable authors across Canada, both well-known and up-and-coming, including Luanne Armstrong, Joanne Arnott, Donna Besel, Lesley Buxton, Mandy Len Catron, Kevin Chong, Lorna Crozier, Michael Crummey, Eufemia Fantetti, Jane Eaton Hamilton, Maureen Scott Harris, Maureen Hynes, Michelle Kaeser, Jagtar Kaur Atwal, Chelene Knight, Evelyn Lau, Ellen McGinn, Lauren McKeon, Monica Meneghetti, Jane Munro, Susan Musgrave, Lorri Neilsen Glenn, Juliane Okot Bitek, Susan Olding, Miranda Pearson, Toni Pieroni, Tana Runyan, Rachel Rose, Andreas Schroeder, Karen Shklanka,  Kara Stanley, Chris Tarry, Rob Taylor, Yasuko Thanh, Russell Thornton, Ayelet Tsabari, Betsy Warland, Gina Leola Woolsey, Samra Zafar, and others.
About the Author
Fiona Tinwei Lam has authored two poetry books, Intimate Distances (finalist for the City of Vancouver Book Award) and Enter the Chrysanthemum and a children's book, The Rainbow Rocket. She co-edited Double Lives: Writing and Motherhood (McGill-Queen's University Press), and edited The Bright Well: Contemporary Canadian Poems About Facing Cancer.  Her poetry and prose appear in over 30 anthologies. Her poems have appeared twice on BC buses through the Poetry in Transit program, and her video poems have been screened locally and internationally.  She has an MFA in creative writing from UBC, as well as a BA (UBC) and LLB (Queen's) and LLM (University of Toronto). She is currently is a teacher/mentor at SFU Continuing Studies. Jane Silcott's first collection of essays, Everything Rustles, was published in 2013 with Anvil Press and shortlisted for the 2014 Hubert Evans Nonfiction award in the BC Book Prizes. Her writing has appeared in several Canadian literary magazines and anthologies and been recognized by the CBC Literary Awards (in 2005 she won second place for an essay about motherhood and writing); the National and Western Magazine Awards, Room Magazine, and the Creative Nonfiction Collective of Canada. Jane is a mentor in the MFA Program in Creative Nonfiction at the University of King's College in Halifax and Vancouver Manuscript Intensive. She has an MFA in Creative Writing from UBC and a BA in English and Creative Writing from the University of Victoria.
Praise For Love Me True: Writers Reflect on the Ins, Outs, Ups & Downs of Marriage…
"Such a wonderful collection. Funny, sad, poignant, diverse: this is an eloquent and entertaining exploration of the ways we wed, break up, find ourselves and one another." — Deborah Campbell, author of A Disappearance in Damascus
"Love Me True features stories and poems written by men and women who push and tug at love, struggle to stretch it around their own unruly hearts. Some are pioneers, venturing on gay marriage or polyamory. Some escape from arranged marriages or infidelitous ones. Some are brave, loving on despite tragedy, loss and the vicissitudes of ageing. I was impressed by the unflinching honesty of these writers—their utterly candid account of intimacy and their feelings about it." — Claudia Cornwall
"Fifty percent of marriages end in divorce, which makes the institution half as safe a bet as this terrific collection of brightness and darkness — to have, hold, and read, in sickness and in health." — Charlie Demers, comedian & author of The Horrors
"Jane Silcott and Fiona Lam have put together the best book on marriage I've read—and I've read a bunch! It's an anthology of voices from writers of diverse cultural backgrounds, life experiences, and romantic and sexual orientations. So much writing about marriage aims for depth over breadth (and focuses on heterosexual monogamous commitment by default)—and what I love about this anthology is that it somehow achieves both depth and breadth. I'm so happy to be a part of it—alongside a whole bunch of writers I really admire." — Mandy Len Catron, author of How to Fall in Love with Anyone
"… There are no valentine cards here: one soon detects the irony of the collection's title. But what there is—courage, candour, and strong writing with eloquent resonance—makes this an anthology to treasure…" — Graham Nicol Forst, Canadian Literature