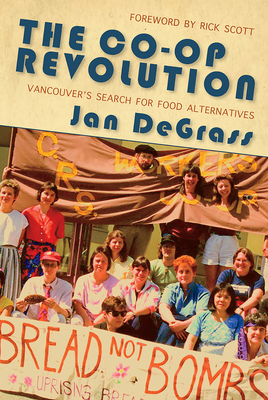 The Co-op Revolution (Paperback)
Vancouver's Search for Food Alternatives
Caitlin Press Inc., 9781987915952, 240pp.
Publication Date: June 21, 2019
* Individual store prices may vary.
Description
"We were undercapitalized, inexperienced, practiced democratic decision-making and some of us smoked dope occasionally. All elements that would make us grow as human beings and as business people. We ran a helluva show."

In the spring of 1975, a free-spirited Jan DeGrass backpacked across Canada in search of adventure and greater meaning in life. When she arrived in Vancouver, she met a group of people committed to social change; together they re-imagined the food industry in BC.

In The Co-op Revolution: Vancouver's Search for Food Alternatives, author and journalistDeGrass writes about her journey as a founding member of the Collective Resource and Services Workers' Co-op. Bounding to life during the heady, activist, grant-funded years of 1974–1980, the CRS Co-op became one of the most successful co-ops in BC and was committed to co-operation and worker ownership. While the decade of the seventies is remembered for its new wave of co-ops—usually organized by a "free-flowing" collection of women and men in their twenties—CRS was unique in its success. Among its many accolades, it created the Tunnel Canary cannery, the Queenright Co-operative Beekeepers, Vancouver's popular Uprising Breads Bakery and a food wholesaler, which later became Horizon Distributors. The economic, political and social skyline of Vancouver was changing. For some, the co-op movement was about crushing capitalism; for others it was simply about buying cheap, wholesome food from people they trusted and living in communal camaraderie. No matter the pursuit, co-operation was the answer.
About the Author
Jan DeGrass writes in Sechelt, BC, where she is the Arts & Entertainment columnist for Coast Reporter and editor of Coast Life magazine. For the past twenty-five years she has written in every genre, from sparkling arts news to exotic travel narrative to a cookbook of potluck recipes. She received a national award for a business article that furthered Canadian co-operative literature, and she was a winner for Best Coverage of the Arts by the Canadian Community Newspapers Association. She is the author of a credit union history book and her first novel, Jazz with Ella (2012), based on her student experiences in Russia. Her short stories have appeared in Canadian Living, Chatelaine and Room.
Praise For The Co-op Revolution: Vancouver's Search for Food Alternatives…
"The Co-op Revolution tells the fascinating story of how grassroots activists at the vanguard of the 1970s whole-food movement, through hard work and a strong commitment to 'food for people, not for profit,' created gender-equitable jobs and sustainable workplaces that left enduring legacies." — Kate Bird, author of Vancouver in the Seventies: Photos from a Decade That Changed the City
"The Co-op Revolution is the story of a small tribe of people working to make their dreams and beliefs a practical reality. Times have changed, dreams have evolved, but it's increasingly important to remember an era gone by that sourced so much of what we take for granted in our lives today. Get comfy, crack open a jar of your favourite preserves and enjoy this taste of history." — Rick Scott, musician