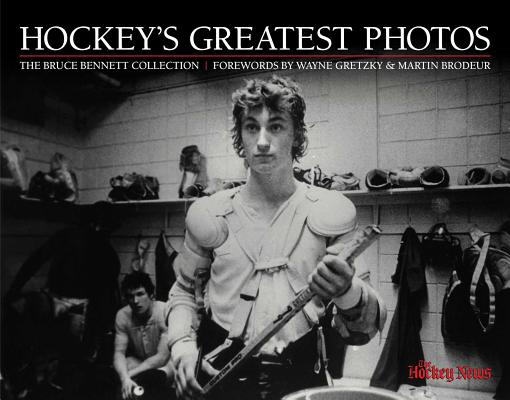 The Hockey News
Hockey's Greatest Photos: The Bruce Bennett Collection
Hardcover

* Individual store prices may vary.
Description
The Hockey News' latest book, Hockey's Greatest Photos: The Bruce Bennett Collection, is the perfect pickup for the diehard hockey fan. As the "Wayne Gretzky of hockey photography," Bruce Bennett is known as the best in the business, and he has put together the definitive collection of the game's best photos from his 40-plus years shooting hockey. If a picture is worth a thousand words, then Hockey's Greatest Photos is a 250,000-word epic. In it, Bennett reveals 250 of his best photos taken from an archive that runs to more than two million images shot over his four decades in hockey. He captures it all: competition, camaraderie, iconic moments, amazing goals, sizzling saves, bone-crushing hits, and off-ice hilarity. He covers every emotion associated with the game, from the ecstasy of victory to the agony of defeat, and he does so from every conceivable angle. Whether on the ice, from the corner, in the stands, behind the bench, beside the penalty box, inside the net or in the dressing room, Hockey's Greatest Photos immortalizes the essence of the game.
Juniper Publishing, 9781988002125, 256pp.
Publication Date: October 6, 2015
About the Author
The Hockey News is recognized as the No. 1 sports media brand in Canada as well as the No. 1 hockey media brand in North America.The editor of the book is Ronnie Shuker, associate editor at The Hockey News. Staff includes editor in chief Jason Kay, managing editor Edward Fraser, senior writers Ken Campbell and Ryan Kennedy, writer/columnist Adam Proteau, senior editor Brian Costello, associate editor Matt Larkin and designer Shea Berencsi.