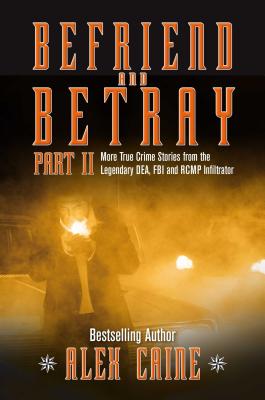 Befriend and Betray 2
More Stories from the Legendary Dea, FBI and Rcmp Infiltrator
Paperback

* Individual store prices may vary.
Description
Once again, Alex Caine risks it all. In his latest book, Alex Caine rubs shoulders with the members of a Hong Kong triad who are deeply involved in the drug trade and a group of Ottawa skinheads that plans to detonate a bomb in the heart of the nation's capital. Caine is blindsided when he learns that his girlfriend Shannon has been doing the same undercover work as him. When her cover is blown by members of the Russian mafia, Shannon is murdered by the mysterious Henry, who ends up in Caine's crosshairs. The author also delves into the abuses committed on Canada's Native communities, as shown by recent police scandals in Saskatoon. With the same intensity, he shines a light on the harassment of female officers in the RCMP. As he writes the closing chapters of his book, Caine gets a call from his former employers, who appoint him to a team of organized crime experts. Just a few days before the murderous attacks at Charlie Hebdo, Alex and his colleagues are called upon to prevent terrorist cells from activating on Canadian soil. The seasoned group of law enforcement veterans is given a list of eighteen suspects who must be neutralized at all costs. Befriend and Betray II gives readers an insider's view of an elusive figure who knows how to walk the thin line between the good guys and the bad guys--between the missions he must carry out and the characters he must become.
Juniper Publishing, 9781988002200, 280pp.
Publication Date: September 13, 2016
About the Author
Alex Caine has made a career of helping police organizations infiltrate biker gangs. An expert undercover agent, he's worked for the Royal Canadian Mounted Police (RCMP), the Federal Bureau of Investigation (FBI), the Drug Enforcement Administration (DEA) and other law enforcement agencies around the world. Caine has been called upon to take on cases targeting the Italian mafia, biker gangs, Chinese triads, the Russian mob and gangsters of all stripes.
or
Not Currently Available for Direct Purchase