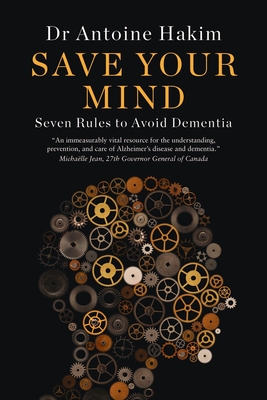 Save Your Mind
Seven Rules to Avoid Dementia
Paperback

* Individual store prices may vary.
Description
This practical and informative book says that you can avoid dementia and the loss of control that accompanies this brain disease by following the author's seven specific rules to exercise the brain and body. From the winner of Canada's most prestigious science award, The Canada Gairdner Awards, this book also offers an authoritative and easy-to-understand explanation of how the brain works and what happens when dementia afflicts it. Author Dr. Antoine Hakim tells about some of the mind-blowing research that shows how elderly nuns maintained their cognitive abilities even though their brains displayed the physical signs of Alzheimer's. He argues that you can build up a defensive system, a cognitive reserve, to protect your mind if you have a stroke. It's even possible to reverse the early signs of dementia. Save Your Mind is an essential book for anyone who wants to take proactive steps to prevent dementia and the loss of mental control.
Barlow Publishing, 9781988025216, 256pp.
Publication Date: September 1, 2017
About the Author
Dr. Antoine Hakim is one of Canada's most distinguished scientists who has earned a world-renowned reputation for his leadership in neuroscience research with an emphasis on stroke research. After joining the University of Ottawa in 1992, he led the charge to set up the Canadian Stroke Network, and then partnered with the Heart and Stroke Foundation and other organizations to develop and apply a nation-wide Canadian Stroke Strategy. This work was critical to changing attitudes towards strokes, which went from being a devastating condition to one that is preventable, treatable and repairable. Hakim and his colleages instituted a national education program to enhance stroke prevention and the delivery of acute stroke care through the coordination of services and the implementation of best practices. Within five years, Ontario alone saw referrals to stroke prevention clinics increase by 34% and stroke patient admissions decrease by 11%.

His work in stroke has been widely recognized. In 2007, Dr. Hakim was named an Officer of the Order of Canada. In 2013, he was inducted into the Canadian Medical Hall of Fame. In 2017, Dr. Hakim won the Gairdner Foundation Wightman Award.

He first trained as a chemical engineer and worked for Syncrude in Alberta. He then earned a PhD in Biomedical Engineering from Rensselaer Polytechnic Institute in New York. He completed his medical residency at the Montreal Neurological Institute and later became a professor at McGill University.

To write Save Your Mind, Hakim drew on 40 years of practice as a neurologist. He has also been director of Neuroscience Research at Ottawa Hospital Research Institute, and CEO & Scientific Director at the Canadian Stroke Network. He is now an emeritus neurology professor at the University of Ottawa in Ontario, Canada.