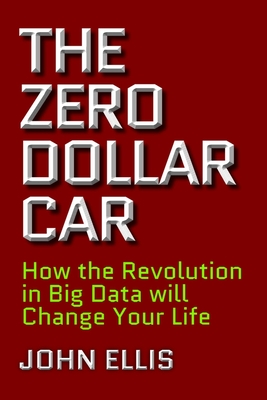 The Zero Dollar Car
How the Revolution in Big Data will Change Your Life
Hardcover

* Individual store prices may vary.
Description
The Zero Dollar Car, written by John Ellis, former head of technology at Ford, explores the deep changes that Big Data will make to our lives in the very near future. A car is a perfect example. Right now cars are outfitted with sensors that gather valuable information about the driver and road conditions. What if the driver could trade that information for money? That information could be so valuable that it could pay for the car.   Cars are only the beginning. Imagine the Zero Dollar House—would you be willing to trade the information sensors gather in your fridge, your bathroom, and elsewhere? Big technology companies like Apple and Google are already profiting from the sale of this kind of information, so why shouldn't we? Ellis tells the story of one of the unlikely pioneers in this business and aims to prepare readers for the incredible changes ahead, once consumers are in a position to profit from Big Data. It could result in major financial rewards for the consumer, but, Ellis warns, the sharing of data from home and car and elsewhere could also create serious and even deadly trouble. Car Today, House Tomorrow. Be Change Ready.
Praise For The Zero Dollar Car: How the Revolution in Big Data will Change Your Life…
"John Ellis looks ahead and connects the dots of the utility of the automobile and the incredible data that is generated from understanding how we use it. His vision and insights will ignite your creativity." — Tim Sullivan, Managing Principal, Meyers Research, a Kennedy Wilson Company
"Whether you like it or not, John Ellis tells it like it is." — Regina Hopper Formerly, President and CEO, ITS America
"John Ellis' perspectives on the influence that data will play on consumer experiences, product development and the underlying ecosystems that connect both are fascinating and foreboding for those in, and outside of, the automotive industry." — Aaron Schulenburg, Executive Director Society of Collision Repair Specialists
Barlow Publishing, 9781988025254, 184pp.
Publication Date: November 10, 2017
About the Author
Normal0falsefalsefalseEN-USJAX-NONE
John Ellis is the managing director of Ellis & Associates, the management consulting firm that serves clients in the world where automotive, consumer, connectivity, and software intersect. Until recently, he was Global Technologist and Head of the Ford Developer Program with Ford Motor Company. Under his leadership, John's team delivered a number of automotive industry firsts including SmartDeviceLink, the open source version of Ford's award-winning AppLink technology that connected devices to vehicles. Before joining Ford, John held key leadership positions at Motorola, where he helped to develop, market, and sell Motorola's mobile software and services, their software developer ecosystem, and industry-leading Open Source Software program. John speaks around the world on software security and the new business models in the connected world. For speeches, panels, and keynotes, he is represented by Big Speak.
or
Not Currently Available for Direct Purchase