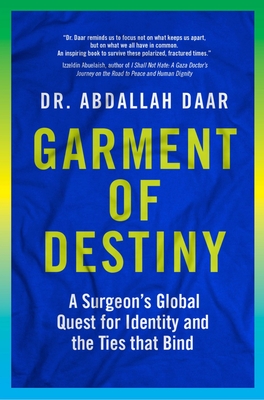 Garment of Destiny
Zanzibar to Oxford: A Surgeon's Global Quest for Identity and the Ties that Bind
Paperback

* Individual store prices may vary.
Description
The author, a world-renowned transplant surgeon, scientist, bioethicist and global health expert, is a Tanzanian born into Swahili culture, with ancestral roots in Arabia, the Caucasus Mountains, and Ethiopia. This memoir chronicles the exploration of his multiple identities, taking the reader on an absorbing journey to Russia, the Ottoman Empire, Zanzibar, South Africa, Idi Amin's Uganda, London, Oxford, the Middle East, the US, Canada, and beyond.  We meet slaves, royalty, great heroes, Nobel Prize winners, and mass murderers.  It is an impassioned call to resist the polarization that is wrenching apart people of different "races," cultures and religions. Inspired by Gandhi and Martin Luther King, TheGarment of Destiny is a remarkable journey that explores the many facets of identity, its formation and who controls it. Are we who we are-- or who we are as seen by others? "I believe that there is no clash of civilizations," Daar says, "because we have one human civilization."
Barlow Publishing, 9781988025346, 320pp.
Publication Date: October 13, 2018
About the Author
Dr. Abdallah Daar is a world-renowned transplant surgeon, an award-winning researcher, and a global health expert. He was born in Tanzania and educated at Oxford University. He taught and worked as a transplant surgeon at Oxford before going to the Middle East, where he helped to build two new medical schools. He is currently a professor of clinical public health,global health and surgery at the University of Toronto. He has worked extensively with the U.N., and his numerous international awards include the UNESCO Avicenna Prize for Ethics of Science. In 2017, he wasmade an Officer of the Order of Canada for his many contributions to global health and for his role in the creation of Grand Challenges Canada.