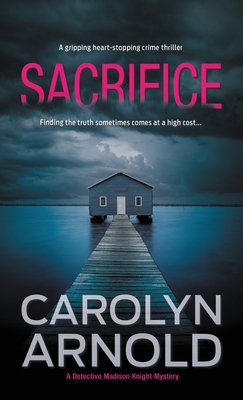 Sacrifice (Detective Madison Knight #3)
Paperback

* Individual store prices may vary.
Other Editions of This Title:
Paperback (7/31/2012)
Paperback, Large Print (3/4/2020)
Hardcover (4/15/2016)
Description
Sometimes, justice comes at a high price...

"An intense, thrilling page-turner sure to satisfy any fan of the crime] genre." -Rosa St. Clair, Book Reviewer

When a young man washes up on the shore of the Bradshaw River, Detective Madison Knight and her partner are called in to investigate. But the case takes a complicated turn when he's identified as the son of local business tycoon Marcus Randall. As one of the wealthiest and most influential men in the city, he has a lot of connections, and one of them just happens to be the police chief.

Madison and Chief McAlexandar have butted heads before, but with this case, Madison's drive and determination to find the truth just might cost her the badge she worked so hard to get. After all she's got her eye on Randall, despite the chief's protests, but she's not the only one. The Secret Service is after him for suspicion of fraud and counterfeiting, and they want Madison's full cooperation to aid their investigation.

Stuck between the chief and one of the most powerful men in the city of Stiles isn't the ideal place to be, but Madison has no choice but to risk it all--if justice is to be served.

Sacrifice is a fast-paced crime novel with twists and turns you'll never see coming. Perfect for fans of the police procedural genre. Uncover clues, follow leads, and catch a killer like thousands of readers have done before you. Buy this international bestselling book today and join the investigation
What readers say about Sacrifice
★★★★★ "An exciting fast-moving modern police-procedural thriller with a realistic, feisty female lead."
★★★★★ "I loved Detective Madison and her dogmatic pursuit for justice "
★★★★★ "A truly awesome story."
★★★★★ "I love Knight's feisty nature "
★★★★★ "Fast paced and well written, this book was hard to put down."
★★★★★ "This story was captivating. I had a difficult time putting it aside."
★★★★★ "Lots of twists and turns."
★★★★★ "Different from other crime novels, liked how realistic it felt. Recommend to anyone."
★★★★★ "Kept me on the edge of my seat."
★★★★★ "If you like fast-paced, no-holds-barred mysteries with a two-fisted protagonist, you will want to read Sacrifice."
★★★★★ "A brilliant crime thriller with twists and turns at every corner."
★★★★★ "Very interesting adventure from start to finish in this murder mystery."
★★★★★ "Lots of action... Love the characters."
★★★★★ "This book keeps you guessing until the end."
★★★★★ "Another EXCELLENT Madison Knight story "
Hibbert & Stiles Publishing Inc, 9781988064147, 520pp.
Publication Date: April 15, 2016