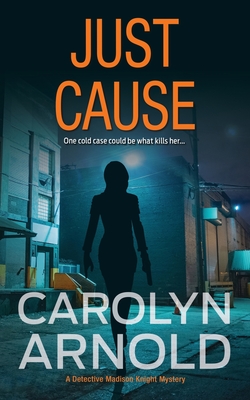 Just Cause (Detective Madison Knight #5)
Paperback

* Individual store prices may vary.
Other Editions of This Title:
Paperback, Large Print (6/25/2020)
Paperback (4/18/2016)
Hardcover (4/18/2016)
Description
One cold case could be what kills her...

"Another exciting police-procedural adventure that will leave you turning the pages." -Stacy Eaton, USA Today bestselling author

Eight years ago, a young defense attorney was murdered, shot down in his driveway. Detective Madison Knight's suspicions immediately led her to the Russian Mafia, but with no concrete way of proving their involvement, she had to let the case go. Now that new evidence has surfaced, she's ready to flip things on their head and get justice once and for all-even if that means making herself an enemy of the mob.

But it's not just them she has to worry about. As her investigation continues, the body count stacks up, and she uncovers that someone within the upper echelons of the Stiles PD just might be in bed with the Mafia. Assuming she can stay alive long enough, will she have to the courage to expose the corruption and finally close her cold case?

Just Cause is a fast-paced crime thriller that will have you on the edge of your seat with twists and turns you'll never see coming. Perfect for fans of the police procedural genre. Uncover clues, follow leads, and catch a killer like thousands of readers have done before you. Buy this international bestselling book today and join the investigation What readers say about Just Cause "There is so much action...Very intense." ⭐⭐⭐⭐⭐
"This is an action-packed story." ⭐⭐⭐⭐⭐
"A page burner that you cannot put down." ⭐⭐⭐⭐⭐
"This book full of suspense and fear." ⭐⭐⭐⭐⭐
"Arnold combines action, suspense and a little romance." ⭐⭐⭐⭐⭐
"The book pulls you in and keeps you turning page after page." ⭐⭐⭐⭐⭐
"The plot is unusual. It is rich and flows." ⭐⭐⭐⭐⭐
"Wonderfully written book in the Madison Knight series." ⭐⭐⭐⭐⭐
"Really thrilling, like all her books." ⭐⭐⭐⭐⭐
"Well-woven story as usual from this author." ⭐⭐⭐⭐⭐
"Arnold is in a league with the author James Patterson and I truly mean this as a compliment." ⭐⭐⭐⭐⭐
"Great storyline and characters." ⭐⭐⭐⭐⭐
"Excellent." ⭐⭐⭐⭐⭐
"Fast-paced, action-packed, must read " ⭐⭐⭐⭐⭐
Hibbert & Stiles Publishing Inc., 9781988064185, 290pp.
Publication Date: October 16, 2014