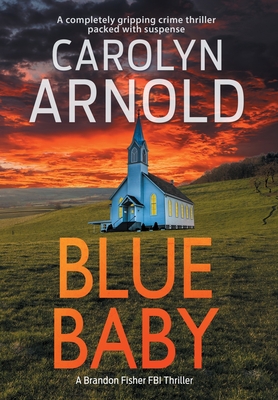 Blue Baby (Brandon Fisher FBI #4)
Hardcover

* Individual store prices may vary.
Other Editions of This Title:
Paperback (9/24/2015)
Paperback (5/13/2016)
Description
Jilted brides-to-be wind up with more than broken hearts...

"One hellish, fast-paced creep show that demanded my attention..." -Tammy's Tea Time

FBI agent Brandon Fisher and his team with the Behavioral Analysis Unit are off to Grand Forks, North Dakota, when the body of a woman is found in her bathtub, dressed in a wedding gown with her ring finger severed.

It's the first day of summer, and an exact year ago, another woman was discovered the same way. Her case went cold, but with the recent murder, the FBI believes they're looking for a serial killer, so they reopen the case. Finding a connection between the women is proving elusive, and with a killer who starts to spiral out of control, that's only making the trail more difficult to follow. And failure is not an option. If Brandon and his team don't catch up to the killer, the bloodbath will continue to overflow.

Blue Baby is a creepy psychological thriller that will have readers turning the pages to unravel every twist. It will also have readers looking differently at how they define their own happiness. Buy this international bestselling book today and hunt a serial killer alongside the FBI

Join the hundreds of thousands of readers who have already taken the plunge into a series that will take you into the minds of the most heinous and disturbing serial killers the world could ever imagine. It doesn't matter if this is the first book you're reading in the Brandon Fisher FBI series or not; all the books stand alone

What readers say about Blue Baby

★★★★★ "This was a serial killer like no other story I have encountered."
★★★★★ "The author does a stunning job of giving us a realistic look into police procedures."
★★★★★ "FBI mayhem at its best."
★★★★★ "Another Arnold novel I couldn't put down."
★★★★★ "One twist after another."
★★★★★ "Very entertaining."
★★★★★ "This author never disappoints "
★★★★★ "Fantastic read."
★★★★★ "Awesome story, the characters are compelling, the story line well-constructed."
★★★★★ "This was a tense, exciting adventure from start to finish."
★★★★★ "Twists and turns."
★★★★★ "I loved this book "
★★★★★ "Very suspenseful A book that keeps you on edge to the end."
★★★★★ "Perfect pace and perfect character development. Arnold's] on my must-read list "
★★★★★ "Outstanding read."
Hibbert & Stiles Publishing Inc, 9781988064253, 266pp.
Publication Date: September 25, 2015