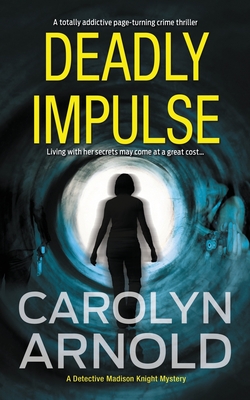 Deadly Impulse (Detective Madison Knight #6)
Paperback

* Individual store prices may vary.
Other Editions of This Title:
Paperback, Large Print (6/30/2020)
Paperback (4/29/2016)
Hardcover (10/29/2015)
Description
She kept secrets from the world. Some she even denied to herself.

"Not only will this book have your detective skills on alert, but it will have you rooting for Maddy." -Bookaholic and More Blog

Detective Madison Knight wishes she'd just pulled the trigger and killed the Russian Mafia hit man when she had the chance. But there's no time machine, no going back. Now's she's living in hell, suffering debilitating flashbacks, and not feeling fit to do her job.

But when the suspicious death of a sixty-eight-year-old woman becomes a murder case, it activates Madison's sense of duty and compulsion to find justice. What she discovers, though, will shake her faith in humanity and remind her that trusting the wrong person can reap harsh consequences. Madison must reach deep inside to find the strength to keep going. If she doesn't, the killer will walk free, and she'll risk losing the two things she holds most dear: her badge and her boyfriend.

Deadly Impulse is a fast-paced crime novel with twists and turns you'll never see coming. Perfect for fans of the police procedural genre. Uncover clues, follow leads, and catch a killer like thousands of readers have done before you. Buy this international bestselling book today and join the investigation What readers say about Deadly Impulse "A totally absorbing murder mystery." ⭐⭐⭐⭐⭐
"Really enjoyed this book." ⭐⭐⭐⭐⭐
"Good read with twist and turns." ⭐⭐⭐⭐⭐
"Loved this book " ⭐⭐⭐⭐⭐
"Fast read, great characters." ⭐⭐⭐⭐⭐
"Maddeningly good read." ⭐⭐⭐⭐⭐
"Be prepared for sleepless nights or non-productive days." ⭐⭐⭐⭐⭐
"The pace is fast, with enough plot twists to make the book hard to put down." ⭐⭐⭐⭐⭐
"Would recommend it to my friends " ⭐⭐⭐⭐⭐
"Fantastically written with amazing attention to detail." ⭐⭐⭐⭐⭐
"Will keep you guessing about the perpetrators to the very end " ⭐⭐⭐⭐⭐
"I became a cheerleader for Madison and was right with her." ⭐⭐⭐⭐⭐
"A hands-up winner for Carolyn Arnold. I loved it " ⭐⭐⭐⭐⭐
"Lots of mystery and suspense all the way through." ⭐⭐⭐⭐⭐
"Arnold does a fantastic job of writing mystery/thriller books that have you on the edge of your seat." ⭐⭐⭐⭐⭐
Hibbert & Stiles Publishing Inc., 9781988064277, 318pp.
Publication Date: October 27, 2015