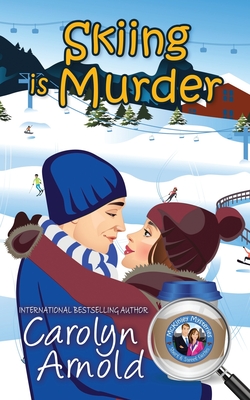 Skiing is Murder (Paperback)
Hibbert & Stiles Publishing Inc., 9781988064673, 164pp.
Publication Date: January 26, 2016
Other Editions of This Title:
Paperback (10/7/2019)
Paperback (10/19/2016)
* Individual store prices may vary.
Description
"Filled with colorful characters and an intriguing mystery...Skiing is Murder is a fine addition to an established series and can be enjoyed on its own."-Queen of All She ReadsThey're ready to hit the slopes when things go downhill...Sean and Sara are supposed to have a relaxing vacation in Vail, but it all goes up in a puff of powder when there's a suspicious death on the mountain. And the deceased is not just anyone; it's Adrian Blackwell, a two-time Olympic skiing gold medalist.Rumor has it Adrian died in a skiing accident, but he was too skilled for Sara to accept that as fact. But she doesn't want to disappoint Sean by ruining his ski trip, even though she's convinced Adrian was murdered and she's itching to find the killer.Sean has never been able to say no to Sara, but this time he plans to. However, all it takes is a call from their PI firm back in Albany to change his mind. A job's come in to investigate Adrian's death, and his agent is the one footing the bill, leaving Sean with more questions than answers.Yet one major problem remains: their New York State PI licenses hold no legal authority in Colorado. They still can't help but look into Adrian's death on the sly, though. This case will definitely involve some underhanded tactics, all while trying to dodge the local police over the course of the investigation.