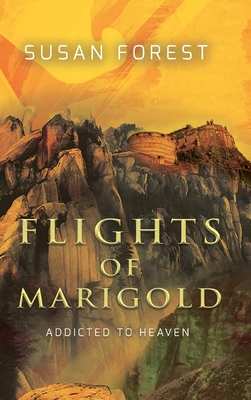 Flights of Marigold
Hardcover

* Individual store prices may vary.
Other Editions of This Title:
Paperback (7/8/2021)
Description
PUBLISHERS LUNCH BUZZ BOOKS 2020 SELECTION. Recommended by Publishers Weekly, Library Journal, and Foreword Reviews.
Flights of Marigold tells an epic tale of addictions, survival, revenge, and redemption of three magiel sisters hiding in an insignificant hinterland. Can they hold on to happiness, dreams, and sisterhood when desire becomes addiction?
ONE RISK, ONE CHANCE.
Peace in the seven realms of Shangril: shattered. Nobility of the magiel race: broken. Lands of the High King's opponents: usurped. And Heaven may no longer be attainable.
Meg and Janat Falkyn, fugitive daughters of an imperial magiel, escape to the edge of the world to take refuge with their youngest sister, Rennika. And, perhaps, to fulfill their mother's wish and restore their people's access to their Gods-by recapturing a fabled prayer stone.
But to accomplish the theft, whom can they trust? The ambitious High King's sister thirsts for power. A calculating regent enriches himself with a steam-driven textile monopoly. A charming swindler sets up an elaborate scheme. And unraveling secrets hidden in castles, alleyways, and brothels threaten to expose everything.
With rebels stalking the sisters, and the High King's armies on the march, the sisters' time is up.
Advance Praise
Publishers Lunch Buzz Books 2020 selection
"Forest skillfully uses her fantasy setting to spin a tale of addiction and familial loyalty."-Publishers Weekly
"A definite twist to the fantasy genre is that while the logical consistency of the magic is there, the book (and series) is meant to focus on addiction and its many incarnations. It is an unusual subject choice for fantasy but one that is interesting, enjoyable, and relatable."-Library Journal
"Though episodic and of epic length, the book still maintains its focus on the sisters and their goals above all else."-Foreword Reviews
Laksa Media Groups Inc., 9781988140216, 394pp.
Publication Date: August 11, 2020