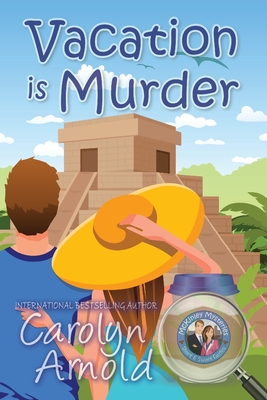 Vacation is Murder
Paperback

* Individual store prices may vary.
Other Editions of This Title:
Paperback (4/12/2014)
Paperback, Large Print (6/24/2020)
Paperback (10/7/2019)
Description
Take the McKinleys with you when you travel This paperback size is small enough to put in a pocket or a purse.

This wasn't in the travel brochure...

"A cute cozy mystery for the summer There's action and romance...The storyline is quick and light--perfect for beach reading " -Writer Blogger Mom

There's only so much relaxation two former detectives can handle--even if they're on their honeymoon. With their recent fall into money, Sean and Sara McKinley should be living it up, enjoying the sun and beaches of Cancun. But heading into their third week of vacation, they've had just about enough lying around.

When the husband of a couple they've befriended is kidnapped and held for ransom, it has the McKinleys putting their experience to good use. As they set out in the unfamiliar landscape of this Mexican paradise, the investigation will have them risking their lives to stop a killer.

McKinley Mysteries are short & sweet just like that coffee you crave. Savor the perfect blend of romance, humor, and murder with zero additives such as foul language, graphic violence or sex. These international bestselling cozies are bound to hit the spot and keep you coming back for more. This is an addiction you can afford to have. Get started today.

What readers have to say about Vacation is Murder

★★★★★ "It's full of sun and fun and mystery."
★★★★★ "Excellent "
★★★★★ "Give yourself a treat, enjoy Cancun with the McKinleys
★★★★★ "A delightful story with a well-developed story line, and well-written."
★★★★★ "Packed with mystery and plenty of twists."
★★★★★ "Liked the suspense and fun they are having."
★★★★★ "Fast moving and a fun read."
★★★★★ "This one was better than the first one if that is possible."
★★★★★ "Some laughs thrown in to make it fun to read."
★★★★★ "Fun, excitement, a touch of the whimsical and romance."
★★★★★ "Great continuation of this series "
★★★★★ "There is plenty of intrigue and a bit of romance thrown in as well."
★★★★★ "It's light reading, but cute."
Hibbert & Stiles Publishing Inc, 9781988353234, 242pp.
Publication Date: October 19, 2016