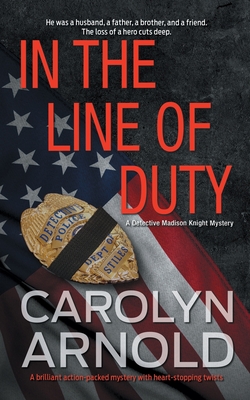 In the Line of Duty (Detective Madison Knight #7)
Paperback

* Individual store prices may vary.
Other Editions of This Title:
Digital Audiobook (2/13/2017)
Paperback, Large Print (9/14/2020)
Paperback (9/29/2016)
Hardcover (9/29/2016)
Description
"A roller-coaster ride of a plot with all manner of twists and turns." -Midwest Book Review

Joni Weir kissed her husband goodbye just that morning, but she never figured it would be the last time she'd see him alive.

When the news hits that Officer Barry Weir was shot and killed in the line of duty, Detective Madison Knight and every cop in Stiles is itching for revenge. With evidence pointing to a drive-by shooting, the investigation takes Madison into the seedy underbelly of the city in the search for justice. But as she digs, the evidence only becomes more puzzling.

With emotions running high, Madison's relationships are tested to their breaking point. Troy Matthews, her boyfriend and colleague, also Weir's childhood friend, is cut deeply, and his grief drives a wedge between them. But she's not going to let her own pain stop her from getting to the truth. Madison will push through-for Troy, but also for Weir's wife and three young daughters-and figure out if Weir was murdered as part of a gang initiation, a straight-up hate crime, or a targeted kill. But with members of the Stiles PD possibly under attack, she has to do it fast. Before more officers pay with their lives.

A brilliant action-packed mystery with heart-stopping twists. Perfect for fans of Robert Dugoni, J.D. Robb, and Lisa Regan.Readers love In the Line of Duty: "Fans of crime fiction will be moved and enthralled by In the Line of Duty, as much an action-packed mystery as it is a heartfelt tribute to police who give up their lives to protect others." -Publishers Weekly

"A hard-hitting, emotional novel." ⭐⭐⭐⭐⭐
"A slew of twists and turns along the way." ⭐⭐⭐⭐⭐
"Arnold...makes us feel a roller coaster of emotions." ⭐⭐⭐⭐⭐
"I absolutely loved this book." ⭐⭐⭐⭐⭐
"I actually could see it being a movie." ⭐⭐⭐⭐⭐
"Arnold puts words and feelings in this book that are true to life. Great writer and series." ⭐⭐⭐⭐⭐
"Brilliant as usual." ⭐⭐⭐⭐⭐
"An insightful look into the lives and losses our country's heroes face every day on the front lines." ⭐⭐⭐⭐⭐
"This book absolutely kept me guessing until the killer was revealed." ⭐⭐⭐⭐⭐
"The twists and turns will leave your head spinning, in a good way." ⭐⭐⭐⭐⭐
Hibbert & Stiles Publishing Inc., 9781988353302, 288pp.
Publication Date: November 4, 2016
About the Author
CAROLYN ARNOLD is an international best-selling and award-winning author, as well as a speaker, teacher, and inspirational mentor. She has four continuing fiction series-Detective Madison Knight, Brandon Fisher FBI, McKinley Mysteries, and Matthew Connor Adventures-and has written nearly thirty books. Her genre diversity offers her readers everything from cozy to hard-boiled mysteries, and thrillers to action adventures. Both her female detective and FBI profiler series have been praised by those in law enforcement as being accurate and entertaining, leading her to adopt the trademark: POLICE PROCEDURALS RESPECTED BY LAW ENFORCEMENT(TM). Carolyn was born in a small town and enjoys spending time outdoors, but she also loves the lights of a big city. Grounded by her roots and lifted by her dreams, her overactive imagination insists that she tell her stories. Her intention is to touch the hearts of millions with her books, to entertain, inspire, and empower. She currently lives just west of Toronto with her husband and beagle and is a member of Crime Writers of Canada and Sisters in Crime.