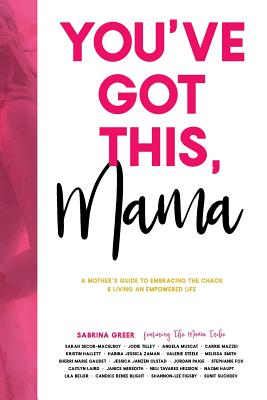 You've Got This, Mama (Paperback)
A Mother's Guide to Embracing the Chaos and Living an Empowered Life
Golden Brick Road Publishing House, 9781988736389, 305pp.
Publication Date: May 1, 2018
Other Editions of This Title:
Paperback (4/23/2019)
* Individual store prices may vary.
Description
This book is a beautiful collection of heartwarming and inspiring stories told by the real mamas who experienced them. Let's face it, motherhood is the hardest job you'll ever love, and it is not meant to be braved alone. It takes a village, right? Do you ever wish you had someone to remind you, "You've got this?" – We've got your back, Mama. Do you ever feel like you are at a crossroads in your life trying to reconcile the woman you once were with the woman you are becoming? - It's okay, Mama, this too shall pass. There is no greater comfort than knowing you're not alone. We can be your village and lucky for you, we fit in your diaper bag. This book, much like motherhood, is full of emotion, joy, sadness, excitement, hardships, love, and beautiful chaos. Our authors share their most intimate journeys and reflections with you in hopes to empower you and provide you the judgment-free support we all deserve. We are here to help you up when you've fallen, shine a light during those dark times, and fan out your cape for you, Supermom. The mama tribe is here to help you take motherhood by the horns and if nothing else, prove to you, yes indeed, you've got this! Contributors include Lila Beijer, Candice Blight, Shannon Figby, Steph Fox, Naomi Haupt, Neli Hession, Jessica Janzen, Cailtyn Laird, Jordan Madley, Sherri Marie, Carrie Mazzei, Janice Meredith, Angela Muscat, Sarah Secor-MacElroy, Melissa Smith, Valerie Steele, Sunit Suchdev, Jodie Tilley, Habiba Zaman-Tran.
About the Author
Sabrina Greer is the founder of YGTMAMA Inc., the host of the podcast You've Got This, Mama, and a certified NLP/CBT practitioner and connector of inspiring souls. She is also the Eastern Canada Ambassador for Mamas for Mamas, an award-winning charity that supports mothers in crisis and provides ongoing support to low-income mamas and their kids. She lives in Toronto, Ontario.
Praise For You've Got This, Mama: A Mother's Guide to Embracing the Chaos and Living an Empowered Life…
"It really does take a village and if you don't already have one, this is a great place to start. A truly honest and inspiring behind the scenes look at pregnancy and motherhood. Any mama can relate to one, or all, of these beautifully candid experiences."  —Cheryl Horne, Cheryl Anne Media
"A beautiful, powerful and collective reminder to trust in our journey, and that our past does not have to paint our future."  —Victoria Turner, Public Figure, Igniter of #PowerTribes
"You Got This, Mama is uplifting and raw. The emotional truth of motherhood is fully exposed leaving you filled with overwhelming love and support. It's a must-read for every mother and mother to be!"  —Tia Slightham, Tia Slightham Parenting Solutions
"Raw truth that will touch a mom's heart and give rays of hope and connection. Real and inspirational."  —Elaine Kaley, BSW, RSW Counsellor, founder of Hungry for Hope Professional Counselling
"The vulnerability, courage and strength of the women who share their stories in You've Got This, Mama is moving to the core. This book had me feel connected to each and every one of the mothers, it filled my heart up and made me proud to be a mother."  —Christie Groom, Entrepreneur, Executive Regional Vice President, Arbonne International
 "A loving push to encourage you through one of the most beautiful endeavors, the emotion and strength is heartfelt and truly inspiring."  —Victoria Chan Shearman, RED9INE
 "In this relatable book, all those who care about women, children, and families will find a treasure trove of validation and information. It takes you on a journey of how we come to be called "mama" reiterating that we are all more alike than we are different."  —Jill Delaney, BSW, Holistic doula, life coach for families
"You've Got This, Mama provides a genuine context for your journey into parenthood with humor, grace, wholeheartedness, and most importantly, the raw truth. This read will leave you with the courage and strength to make the most of your time as a parent and to accomplish feats of motherhood (and womanhood) you never thought possible."  —Holly Ruhl, Ph.D. Developmental
or
Not Currently Available for Direct Purchase