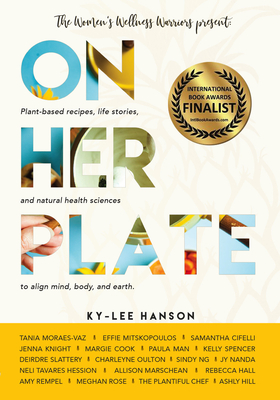 On Her Plate
Plant-based Recipes, Life Stories, and Natural Health Sciences to Align Mind, Body, and Earth
Paperback

* Individual store prices may vary.
Description
On Her Plate introduces us to a conscious way of thinking about the human and earth connection; What properties can be found in nature and how closely does the human body interact with them? What are we doing that counteracts the natural balance of our body and planet? We explain what vitamin and mineral deficiencies look and feel like; What makes up the human body and how do we properly replenish? Readers will learn from many perspectives: retired nurses, nutritionists, biology majors, personal trainers, and every day women. The authors explore exercise regimens, female hormonal issues, cancers, and dive into how our mindset, busyness, and confidence–or lack thereof, is steering our eating habits. This book shares real health experiences from women, paired with yummy, nutrient dense recipes that are familiar such as soups, pasta, and chocolate chip muffins. In an effort to reduce added hormones in the diet, no dairy, eggs, or animal byproducts were used, and gluten-free options are provided. Contributors include Samantha Cifelli, Margie Cook, Rebecca Hall, Neli Hession, Ashly Hill, Jenna Knight, Paula Man, Allison Marschean, Effie Mitskopoulos, Tania Jane Moraes-Vaz, Jy Nanda, Sindy Ng, Charleyne Oulton, Amy Rempel, Meghan Rose, Deirdre Slattery, Kelly Spencer, Helen — The Plantiful Chef.
Praise For On Her Plate: Plant-based Recipes, Life Stories, and Natural Health Sciences to Align Mind, Body, and Earth…
"On Her Plate is an intelligent, insightful and practical primer for making healthy choices a part your daily life. From nutrition to exercise to mindfulness and easy recipes, this book will help you get in touch with what your body, mind, and soul need to thrive!"  —Sonia Jhas, author
Golden Brick Road Publishing House, 9781988736419, 290pp.
Publication Date: October 21, 2018
About the Author
Ky-Lee Hanson is a successful author and entrepreneur. She thrives on creating opportunities to help people along their journey. Her studies in sociology, human behavior, stress management, nutrition and health sciences has led her to have a deep understanding of people. She discovered the best way to "relate" to people is not to, instead simply listen to understand their world for the uniqueness that it is. She is a featured author of Dear Limits, Get Out of My Way; Dear Time, Are You On My Side?; Dear Stress, I'm Breaking Up With You; and I'm 30, Now What?!. She lives in Oxford Mills, Ontario.
or
Not Currently Available for Direct Purchase