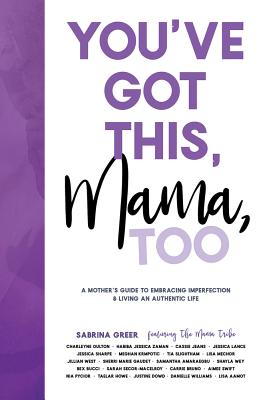 You've Got This, Mama, Too (Paperback)
A Mother's Guide To Embracing Imperfection And Living An Authentic Life
Golden Brick Road Publishing House, 9781988736587, 304pp.
Publication Date: April 23, 2019
Other Editions of This Title:
Paperback (5/1/2018)
* Individual store prices may vary.
Description
This beautiful collection of heartwarming and inspiring stories are told by the real mamas who experienced them. Much like the original, You've Got This, Mama, this extension in the series shares raw and real experiences sure to remind you that you are not alone. Let's face it, motherhood is the hardest job you'll ever love, and it is not meant to be braved alone. It takes a village, right? We can be your village, and lucky for you, we fit in your diaper bag. This book, much like motherhood, is full of emotion, joy, sadness, excitement, hardships, love, and beautiful chaos. Our authors share their most intimate journeys and reflections with you in hopes to inspire you and provide the judgment-free support we all deserve. We dive into embracing imperfection and touch on the dangers of comparison. The amazing mamas in this book fill the pages with grace, authenticity, and unconditional love. Contributors include Lisa Aamot, Samantha Amaraegbu, Bex Anderson, Carrie Bruno, Justine Dowd, Sherri Marie Gaudet, Taelar Howe, Cassie Jeans, Meghan Krmpotnic, Jessica Lance, Lisa Mechor, Charleyne Oulton, Nia Pycior, Sarah Secor-MacElroy, Jessica Sharpe, Tia Slightman, Aimee Swift, Jillian West, Shayla Wey, Danielle Williams, and Habiba Zaman.
About the Author
Sabrina Greer is the founder of YGTMAMA Inc., a company built on love and focused on inclusive resources and opportunities for mothers; the host of the podcast You've Got This, Mama; and a certified NLP/CBT practitioner and connector of inspiring souls. She is also the Eastern Canada Ambassador for Mamas for Mamas, an award-winning charity that supports mothers in crisis and provides ongoing support to low-income mamas and their kids. Their mission is a future in which no mama or child is left behind. She lives in Toronto, Ontario.