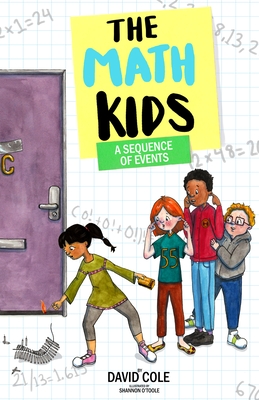 A Sequence of Events
Paperback

* Individual store prices may vary.
Other Editions of This Title:
Paperback (4/1/2021)
Paperback (10/1/2019)
Paperback (10/7/2021)
Paperback (12/3/2018)
Description
The Math Kids Club is back After solving the case of the prime-time burglars, The Math Kids, Jordan, Justin, and Stephanie are ready to return to the original purpose of their club: solving math problems. And the district Math Olympics is the perfect opportunity to do just that. But before they can enter the competition, they need a fourth teammate. The Math Kids set their sights on Catherine Duchesne. Even though Catherine has been quiet in class, she knows some really cool math tricks that are sure to help The Math Kids win the competition. But when Catherine doesn't show up for school and Jordan, Justin, and Stephanie find out her father's been kidnapped, the group springs into action to help their new friend. The Math Kids: A Sequence of Events, the second book in David Cole's fast-moving math adventure series, comes in spring 2019.
Common Deer Press, 9781988761305, 132pp.
Publication Date: June 7, 2019
About the Author
David Cole has been interested in math since he was a very young boy. He pursued degrees in math and computer science and has shared this love of math at many levels, including teaching at the college level, coaching elementary math teams, and running a summer math camp. He also has a love of writing and has written a number of plays that have been performed. The Math Kids was born of a desire to combine his interests and exercise both sides of his brain at the same time. Find him on https: //themathkids.co