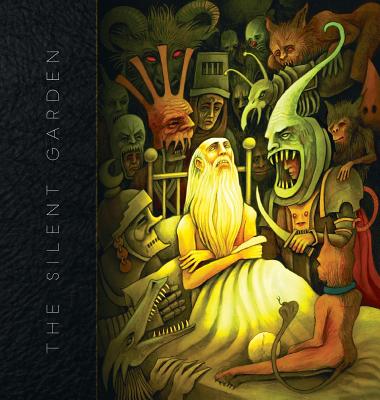 The Silent Garden (Hardcover)
A Journal of Esoteric Fabulism
Undertow Publications, 9781988964058, 252pp.
Publication Date: September 4, 2018
* Individual store prices may vary.
Description
Where Darkness Bends
"We went down into the silent garden. Dawn is the time when nothing breathes, the hour of silence. Everything is transfixed, only the light moves."
- Leonora Carrington
Welcome to The Silent Garden.
The Silent Garden is a peer-reviewed journal of esoteric fabulism, edited and curated by the Silent Garden Collective, a professional group of editors, writers, and scholars interested in exploring those liminal borderlands where darkness bends.
The Collective's aim is to provide an annual journal of exceptional writing and art focussed on horror and the numinous, the fabulist, the uncanny, the weird, the gnostic, the avant-garde, the esoteric, and the dark interstices of the known and unknown world.
Each volume of The Silent Garden will feature original, translated, and reprint fiction and non-fiction, including; film and book reviews; essays; opinion and commentary; as well as poetry and art.
THE SILENT GARDEN: A JOURNAL OF ESOTERIC FABULISM
DELUXE SQUARE (8.5" X 8.5") HARDBACK, WITH INTERIOR COLOUR ILLUSTRATIONS, PRINTED ON 70LB. PAPER.
The inaugural volume features the following:
ART
Transcending the Grotesquerie: The Surreal Landscapes of David Whitlam
NON-FICTION
"Translating The Ritual," by J.T. Glover
"The Raw Food Movement: Comparing Transformative Diets in Han Kang's The Vegetarian (2015) and Julia Ducournau's Raw (2016)," by V.H. Leslie
"Unstitching the Patriarchy: A review of Camilla Grudova's The Doll's Alphabet," by Rudrapriya Rathore
"Cinema of the Body: The Politics of Performativity in Lars Von Trier's Dogville and Yorgos Lanthimo's Dogtooth," by Angelos Koutsourakis
POETRY
"Lincoln Hill," by Daniel Mills
"Deposition of Darkness," by Mes ndel Virtusio Arguelles (Translated by Kristine Ong Muslim)
"Contortionist," by Mes ndel Virtusio Arguelles (Translated by Kristine Ong Muslim)
FICTION
"Waystations of the High Night," by Marcel Brion (Translated by Edward Gauvin)
"Her Blood the Apples, Her Bones the Trees," by Georgina Bruce
"La Tierra Blanca," by Maurizio Cometto (Translated by Rachel S. Cordasco)
"Embolus of Cinnabar," by Patricia Cram
"Palisade," by Brian Evenson
"Under the Casket, A Beach " by Nick Mamatas
"The Other Tiger," by Helen Marshall
"Coruvorn" by Reggie Oliver
"Blood and Smoke, Vinegar and Ashes" by D.P. Watt
"The Palace of Force and Fire," by Ron Weighell
"Nox Una," by Marian Womack