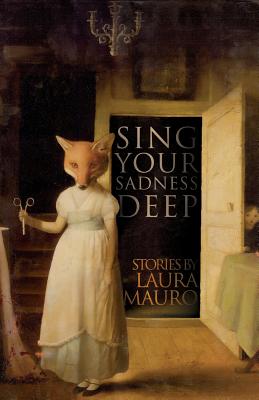 Sing Your Sadness Deep (Paperback)
Undertow Publications, 9781988964126, 236pp.
Publication Date: August 6, 2019
Other Editions of This Title:
Hardcover (8/6/2019)
* Individual store prices may vary.
Description
British Fantasy Award-winning author, and Shirley Jackson Award finalist Laura Mauro, a leading voice in contemporary dark fiction, delivers a remarkable debut collection of startling short fiction. Human and humane tales of beauty, strangeness, and transformation told in prose as precise and sparing as a surgeon's knife. A major new talent
Featuring "Looking for Laika," winner of the British Fantasy Award, and "Sun Dogs," a finalist for the Shirley Jackson Award.
Sun Dogs
Obsidian
Red Rabbit
Letters from Elodie
The Grey Men
Ptichka
When Charlie Sleeps
In the City of Bones
The Looking Glass Girl
In the Marrow
Looking for Laika
Strange as Angels
The Pain-Eater's Daughter
Acknowledgements
About the Author
Laura Mauro started writing short fiction in 2012 and hasn't stopped since. Born in London, England, her stories have appeared in Black Static, Interzone, Shadows & Tall Trees, The Dark, and a variety of anthologies. Her debut novella Naming the Bones was published in 2017. Her short story "Sun Dogs" was a Shirley Jackson Award finalist, and "Looking for Laika" won the 2018 British Fantasy Award in Short Fiction. She loves Finnish folklore, Japanese wrestling and Russian space-dogs. She tweets at @lauranmauro.