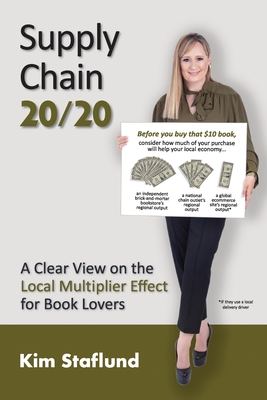 Supply Chain 20/20
A Clear View on the Local Multiplier Effect for Book Lovers
Paperback

* Individual store prices may vary.
Description
In 2018 and 2019, I was blogging, email marketing, and publishing books regularly. My Amazon author ranking was rising each month. I was confidently on my way to joining the ranks of the Amanda Hockings and Mark Dawsons of this world, all while helping other authors accomplish the same.
Then I was sucker punched in early 2020, along with so many others, when our governments announced a lockdown of all non-essential businesses. With my principal income at risk, I had to let my side hustle go. I stopped living and quickly switched to survival mode. Was I an essential employee at an essential business? So much of it was out of my hands, but I showed up every day to prove my worth. And I prayed every night.
Only hindsight has been able to show me that 2020's worldwide wake-up call was actually a hidden gift we all needed to unwrap. It isn't about individual success online. If your local community is suffering, you'll never thrive in the long run. If any one link is broken, the whole supply chain suffers.
Allow me to introduce you to a new and improved book supply chain that can help us all work more efficiently while earning both local and international profits simultaneously. We can protect ourselves by helping each other. In fact, we can thrive Does that sound farfetched? Read this book, and you will see just how realistic it is. It already exists. Now we just have to utilize it effectively.
Polished Publishing Group, 9781988971490, 284pp.
Publication Date: November 30, 2021