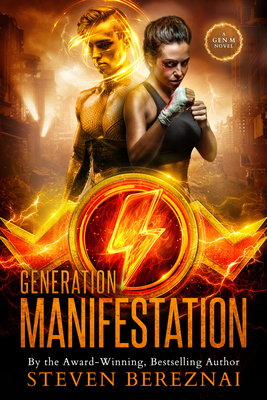 Generation Manifestation (Gen M #1)
Paperback

* Individual store prices may vary.
Description
My name is Caitlin Feral, and I'm about to face my final Testing Day.

My younger brother and mom hope I return: that I survive the tests (which is not a given) and that I am still a dreg. They want me to stay here with them to keep what's left of our family together. They want me to stay here, in the shadow of the Genetic Wars, with mutant animal attacks, protectors in faceless helms eager to catch us in the slightest infractions, and a menial work placement that's waiting with my name on it if I fail the tests. But that's not what I dream about.

In my dreams, I can lift a bus. I can fly.

I have to Manifest. If I do, my classmate Lilianne and teacher Mrs. Cranberry will stop their bullying, and I can leave the danger and the dirt and the lack of food and medication and move to Jupitar City to be adopted by a Supergenic family.

That's the promise—if Testing Day doesn't kill me first.

"I barely got out of there. They're not afraid to kill us. They're not afraid to kill you."

That's what my classmate Normand said after he returned from his testing, barely able to stand. But he's soft; I'm not … right? The Treaty will protect me, and the Supergenics can only test within reasonable parameters to find their own kind, but the terror and pain in Normand's eyes makes me sweat and my heart race.

What if the rules have changed?

And what if I am a mere DNA regular? What if I'm nothing like the Supergenic heroes I read about in the comic books they send us from Jupitar City? Today, I find out. And I do know one thing.

I would rather die trying than be stuck being me for the rest of my life.
 

DON'T BE DNA REGULAR. BE GENERATION MANIFESTATION. The action-packed, heart-pounding adventure of Gen M begins here!

Warnings: for fans of strong female protagonists, LGBTQ positivity, important neurodiverse characters, unexpected heroism, unexpected villainy and other unpredictabilities. Earlier version published as I Want Superpowers. Fans of Hunger Games, Divergent, 1984, Brendan Sanderson's Steelheart or Marvel's X-Men and X-Force will love Generation Manifestation!
 

"A richly realized dystopian world that reads like The Hunger Games meets X-Men." — Ryan Porter, The Toronto Star

"A teenager must determine where her true alliances rest in Generation Manifestation, a dark dystopian novel directed by tough choices and earned wisdom … with heartrending twists."—Foreword Clarion Review

"I LOVED THIS! … it's on my list of the best books I've ever read … You think you know what is going to happen, but you have no idea how many times my predictions were wrong." —Elizabeth Sagan, MyBookFeatures

"One of the best things about this book was in the start I expected it to take the same beaten path. But it subverted my expectations. And I couldn't predict where the book was going next." —Ananya B, Goodreads

"When I finished the last page, I had to close my eyes for a second and try to keep my mind together. I am not sure if it was an ending or a new beginning…This book is hands down my favorite so far this year. It was easy to read, very well written, and detailed." —Books of Cat, Goodreads

"This book had the perfect mix of world building, character development and rich content that were tied beautifully with a unique form of writing. To be honest, it was like nothing I've read before … because it really was fresh and innovative." —Dove, Goodreads
Praise For Generation Manifestation (Gen M #1)…
"Katniss Everdeen who? Caitlin Feral is here to start a revolution even bigger than the girl on fire! Generation Manifestation is insane! Think, The Hunger Games meets X-Men. This action-packed dystopian tale explores wrongs and rights, villains and heroes; we experience the courage of fighting a system that is not what it seems." —Sam, Short and Sweet Reviews By Sam

"I LOVED THIS! … it's on my list of the best books I've ever read … I can compare it with Steelheart by Brandon Sanderson. And with Hunger Games. And with X-Men." —Elizabeth Sagan, MyBookFeatures

"This is a somewhat quick read but it is packed with so much going on. This dystopian world is filled with mutated beasts, super humans, and regular humans which are known as dregs. The story has a shadow of 1984 throughout it as well as a bit of a Divergent feel … In my opinion, this is a great read and one that anyone and everyone into fantasy, dystopian, super humans, and action-packed adventures should pick up." —Teo W, IMOGBUW

"It was a wild ride that kept me reading." —Jennifer, Goodreads

"The story was extremely well written, and perfect for someone like me, that likes to cheer for the underdog, but doesn't necessarily like super-power-wielding heroes. The author did a fantastic job of posing the question: what if the superheroes were the villains? And crafting that into a delightfully sinister future. I loved every minute of it." —Cary M, Author Unpublished

"A phenomenal book. It epitomizes the best of its genre. … If you're in the market for dystopian YA fiction it doesn't get much better than Generation Manifestation. The characters all evolve harmoniously throughout the book to complement the plot, but not always in the way you might expect. With a lot of action, suspense, and some dark turns, it is perfectly paced. Once you start, it's a hard book to put down." —Leo I, Goodreads

"This book has similarities to series such as Divergent and Marvel/DC series but the author makes it his own universe by having unique characters, well drawn up world building and an engaging plot where every guess you make will be wrong…. I loved the inclusiveness of this book, the author does not shy away from topics such as gender identity, neuro diversity and disabilites." —Nicole, Goodreads

"This was a great dystopian story of the haves and the have nots, with what the have having is just a bit different than your usual city behind a wall. I am ready for book 2 now (checking watch) ok, REALLY ready for book 2 now!!" —Suzanne, Goodreads
Jambor, 9781989055045, 248pp.
Publication Date: September 14, 2021
About the Author
In grade two, Steven wrote a not-so-breathtaking poem for his school's literary anthology. He's been a writer ever since. His experience includes writing/producing for CBC TV, a short film and reality stint at OUTtv, and penning some award-winning, bestselling novels.

He came out in his late teens and feeling like an outsider has deeply impacted his sensibility. He loves writing that combines sass, heart, speculative fiction, and (where appropriate) abs. Basically, shows like Buffy, Teen Wolf and She-Ra and the Princesses of Power.

He has written several books about teenaged superheroes that have been described by fans as "dynamic," "written beautifully," where he "works magic in developing characters"and has action that is "new and different and not your typical YA superhero adventure story."

Reviewers agree!

"Bereznai has the imagination of Stan Lee with the wit of RuPaul." — Michael Pihach, IN magazine

"I love Bereznai's characters and hope they come to your rescue the way they rescued me." — Tom Cardomone, The Lavender Menace: Tales of Queer Villainy

Steven is based in Toronto, and you can follow him @ stevenbereznai.com, on Instagram @stevenbereznai, and on facebook @GenerationManifestation!