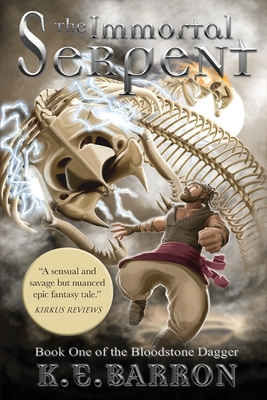 The Immortal Serpent
Book One of the Bloodstone Dagger
Paperback

* Individual store prices may vary.
Other Editions of This Title:
Hardcover (12/3/2017)
Paperback (9/15/2017)
Description
A heart-pounding adventure fantasy of epic proportions.
Jeth, cursed at birth, is forced to leave his homeland and find a place for himself in a world descending into war. Overnight, he goes from fervent soldier to desert thief who now must lie, cheat, and steal to survive a hostile, foreign land alongside an enigmatic and sultry companion.
Across the ocean, Vidya undergoes a harrowing transformation into a winged weapon that will avenge her mother and save her island nation.
Their fates are entwined by the infamous Overlord of Herran.
One is running from him, the other is hunting him.
Neither can escape the Immortal Serpent.
Dark and funny, grimy and emotional, witty and charming, The Immortal Serpent is the first book in a series that will leave you obsessing until the next installment.
Foul Fantasy Fiction, 9781989071205, 460pp.
Publication Date: August 14, 2019