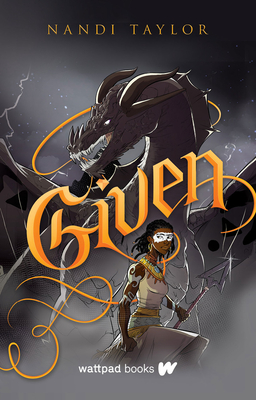 Given (Hardcover)
Wattpad Books, 9781989365045, 464pp.
Publication Date: January 21, 2020
* Individual store prices may vary.
Description
Yenni has never been this far from home. With only her wits, her strength, and her sacred runelore, the fierce Yirba warrior princess is alone in the Empire of Cresh. It's a land filled with strange magics and even stranger people—all of whom mistrust anyone who's different. But Yenni will prove herself, and find the cure for her father's wasting illness. She will not fail.
No one warned her about the dragons. Especially not about him.
Yet there is something powerful and compelling about the violet-black dragon known as Weysh. In human form he's muscular, beautiful—and completely infuriating. What kind of arrogant creature claims a stranger as his Given; as his destined mate? Yenni is no man's—or dragon's—plaything. But other magics must be at work here, because Weysh might just be her best hope at finding the answers she seeks.
Only now Yenni can't tell if she's fighting an attraction to a dragon . . . or fighting fate itself.
About the Author
Nandi Taylor is a Canadian writer of Caribbean descent based in Toronto. She's a two-time Watty Award winner, and her Wattpad story Given has garnered over one million reads and earned the 2018 Worldbuilders Watty Award. Nandi grew up devouring sci-fi and fantasy novels, and from a young age wrote books of her own. Her books are an expression of what she always wanted more of growing up—diverse protagonists in speculative settings. Common themes she writes about are growth, courage, and finding one's place in the world.
Praise For Given…
Starred Booklist Review- February 15, 2020
Yenni Aja-Nifemi ka Yirba is the princess of the Yirba tribe and loves studying runes, magical markings for combat and protection. But in a time of mounting political tension, her love of runelore is seen as frivolous, particularly when her family is counting on her entering a politically beneficial marriage to stave off tribal conflict. Doing her part to help, Yenni heads for the colonizers' nation of Cresh to study at Prevan Academy for Battle and Magical Arts with the hopes of learning enough to keep the throne from being usurped. Surprisingly, the journey becomes one that requires Yenni to learn not only of foreign magic and medicine but also of love as well. In her fresh take on princess and dragon tropes, Taylor eloquently marries Caribbean folklore, magical boarding-school tales, and whimsical interspecies romance. While Yenni's betrothal to a dragon is surprising at first, there is much delight in her initial resistance to and eventual falling for her Given. Fans of dynamic heroines and those who love romance will delight in how this relationship fortifies both parties, with the unlikely pairing also emphasizing cultural inequities and the devaluation of knowledge originating in African heritages. Alternating narration between Yenni and her Given both rounds out the world building in this story while ever so gently knitting the story of two formerly disparate lives together.
— Melanie Kirkwood