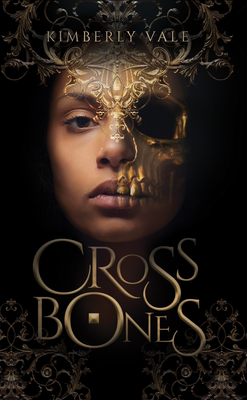 Crossbones (Kingdom of Bones #1)
Hardcover

* Individual store prices may vary.
Other Editions of This Title:
Paperback (8/30/2022)
Description
Never trust a pirate.

The Blood Bell tolls, marking the death of the pirate king and the start of the Trials—a heart-stopping competition where the reward is the Bone Crown. Only one contender can claim the coveted island throne; each will gamble life and limb to win.

Captain. Sister. Maiden.
Csilla Abado yearns to prove her strength to the seasoned pirates who balk at her youth and to her elder sister who has always craved Csilla's captainship. She will risk everything to become the first pirate queen, no matter the cost.

Dealer. Son. Legacy.
Kane Blackwater wants to leave behind the dirty gold and shady trades he's made to keep his father's ship, the Iron Jewel, alive. The Trials represent a new beginning—yet rumors of a secret heir are swirling, threatening his hopes of becoming the pirate king.

Stowaway. Daughter. Storm.
Lorelei Penny longs for nothing more than to avenge her mother's death. Stowing away on the Iron Jewel was supposed to get her closer to the killer, but instead she finds herself caught up in the deadly battle where loyalty and desire collide.

Csilla. Kane. Lorelei. Each on a mission. The sea, however, has other plans. Dark tides are rising, and if they aren't careful, they'll surely drown.
Praise For Crossbones (Kingdom of Bones #1)…
"Fresh, fun, and perfect for anyone who was obsessed with Pirates of the Caribbean, Vale delivers a hell of a ride with Crossbones. Get ready to be swashbuckled." — Hannah Whitten, author of For The Wolf

"Vivid, adventurous, and captivating—Crossbones pulls readers into a strikingly imaginative world full of high stakes and engaging characters. It's a wild storm of a book that readers won't want to put down!" — Francesca Flores, author of Diamond City and Shadow City

"Featuring a compelling voice, well-crafted characters, and a perilous plot that threatens the lives of everyone involved, this start to the Kingdom of Bones series will speak to fans of . . . Pirates of the Caribbean . . . and high-stakes dystopian adventure." — Stephanie Cohen, Booklist

"[R]eaders will . . . root for these characters as they battle one another to claim the Bone Crown." — Emily Walker, School Library Journal
Wattpad Books, 9781989365793, 376pp.
Publication Date: October 5, 2021
About the Author
Kimberly Vale is a reader, a bit of a hopeless romantic, and started writing on Wattpad as a teen. In the years since then, she has accumulated millions of reads online and has volunteered her time to mentorship programs and other efforts in the writing community. With a BA in Education, Kimberly teaches remediation and dyslexia intervention in public schools and lives in Arkansas with her husband, two children, and two dogs. She also enjoys playing video games, trying new recipes, and coming up with ridiculous theories about her current tv-obsessions.