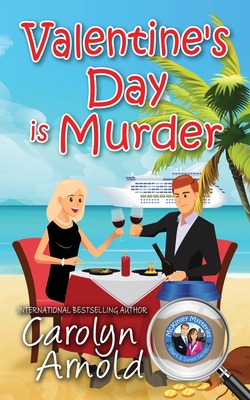 Valentine's Day is Murder (Paperback)
Hibbert & Stiles Publishing Inc, 9781989706091, 136pp.
Publication Date: October 7, 2019
Other Editions of This Title:
Paperback (1/15/2015)
Paperback (10/19/2016)
* Individual store prices may vary.
Description
This isn't an adventure on the high seas, but "thar be gold "

"It was full of adventure and mystery along with some romance. It pulls you in and won't give up until everyone is safe and sound Definitely a great cozy series " -Community Bookstop

Jimmy finally takes a Caribbean vacation and a chance on love. It could have been the perfect romantic getaway for Valentine's Day, but he goes missing. His female companion thinks cupid's arrow may have missed its mark, but Sean and Sara McKinley know Jimmy would never leave a lady stranded.

The McKinleys hop on their private jet to the tropical paradise of Ocho Rios, Jamaica, determined to find their friend. What they get is one gold coin near where Jimmy was last seen, and their imaginations go wild: did pirates kidnap Jimmy? But all the fanciful conjecture in the world won't get them any closer to finding him. They need to figure out the motives for anyone who might want to hurt Jimmy--and before it's too late.

McKinley Mysteries are short & sweet just like that coffee you crave. Savor the perfect blend of romance, humor, and murder with zero additives such as foul language, graphic violence or sex. These international bestselling cozies are bound to hit the spot and keep you coming back for more. This is an addiction you can afford to have. Get started today.

What readers have to say about Valentine's Day is Murder:

★★★★★ "This is an exciting, suspense filled, and FUN mystery."
★★★★★ "Kept me interested all the way through."
★★★★★ "A well-written, invigorating mystery"
★★★★★ "I enjoyed every moment of reading this."
★★★★★ "Packed with adventure."
★★★★★ "There is intrigue, suspense, and surprises in this story."
★★★★★ "A fast-paced mystery set in Ocho Rios, Jamaica."
★★★★★ "You've got to love a good surprise ending."
★★★★★ "Even more action-packed and suspenseful than usual."
★★★★★ "There is some sweet, light romance, and a missing person whodunit."
★★★★★ "Arnold weaves wonderful mysteries​."
★★★★★ "Was a delight to read."