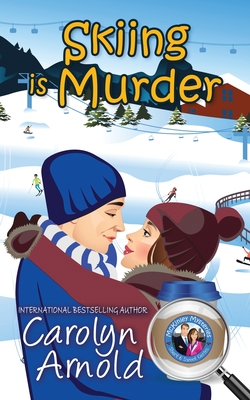 Skiing is Murder (Paperback)
Hibbert & Stiles Publishing Inc, 9781989706114, 164pp.
Publication Date: October 7, 2019
Other Editions of This Title:
Paperback (1/26/2016)
Paperback (10/19/2016)
* Individual store prices may vary.
Description
They're ready to hit the slopes...when things go downhill.

"Filled with colorful characters and an intriguing mystery...Skiing is Murder is a fine addition to an established series and can be enjoyed on its own." -Queen of All She Reads

Sean and Sara are supposed to have a relaxing vacation in Vail, but it all goes up in a puff of powder when there's a suspicious death on the mountain. Sara's not about to let rumor and local police conclude that Adrian Blackwell, a two-time Olympic skiing gold medalist, died in a skiing accident. She's certain he was far too skilled for that to have happened and does her best to convince Sean to investigate what really took place.

Sean might have been able to refuse, but when Adrian's agent contacts their private investigation firm in Albany, New York, to look into Adrian's death, Sean's curiosity is piqued. The course ahead isn't going to be an easy one, though. The McKinleys will need to traverse moguls standing between them and the truth. The biggest obstacle is that their New York State PI licenses hold no legal authority in Colorado. But they've faced this challenge before. It will just involve some creativity and undercover stunts, all while trying to dodge the local police.

McKinley Mysteries are short & sweet just like that coffee you crave. Savor the perfect blend of romance, humor, and murder with zero additives such as foul language, graphic violence or sex. These international bestselling cozies are bound to hit the spot and keep you coming back for more. This is an addiction you can afford to have. Get started today.

What readers have to say about Skiing is Murder:

★★★★★ "Just a good, clean, read."
★★★★★ "A fast read, and endearing, inspiring me to start the series from the beginning."
★★★★★ "This book has so much intrigue."
★★★★★ "An entertaining mystery."
★★★★★ "This is a short, exciting, comfy read."
★★★★★ "It kept me turning pages to see what happened next."
★★★★★ "It is a good, clean series."
★★★★★ "This book was totally enjoyable."
★★★★★ "Very good read "
★★★★★ "Endearing and entertaining cozy mystery."