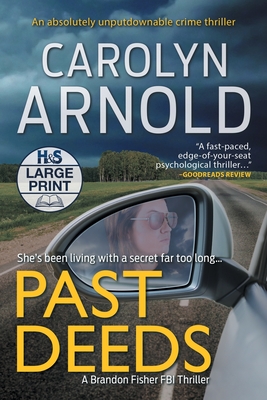 Past Deeds (Brandon Fisher FBI #8)
Paperback

* Individual store prices may vary.
Other Editions of This Title:
Paperback (2/18/2020)
Hardcover (2/18/2020)
Paperback (2/18/2020)
Description
The sun is just coming up, and the sniper's hands are sweaty as she looks through the rifle's scope to the streets below. In mere minutes, her target will be dead.
A prosecuting attorney is murdered in a sniping that takes place in Arlington, Virginia, less than fifteen minutes from Washington. FBI Agent Brandon Fisher and his team with the Behavioral Analysis Unit are called in to investigate the threat level and to determine if the lawyer was targeted. The FBI hadn't anticipated previous victims stretching from coast to coast.
The team splits up across the country, but more than jet lag is getting to Brandon. As their profile on the shooter takes shape, their one theory on motive strikes too close to home and has him battling with regret over a past decision. He comes to discover some choices not only haunt us but can have long- and far-reaching repercussions we couldn't even begin to imagine. Will Brandon be able to set aside his personal issues for long enough to stop a serial killing spree before there's another victim?
Past Deeds is a gripping psychological crime thriller that will have you flipping the pages as you try to put the clues together faster than the FBI. To stand a chance, you'll need to unravel the psyche of a killer. This mystery will also make you think and reflect-and you just might wonder if any past decisions you've made are stalking you, ready to strike.
Become addicted to an international bestselling series that will take you into the minds of the most heinous and disturbing serial killers the world could ever imagine.
What readers are saying about Carolyn Arnold:
"Mystery, thrills, and suspense of the highest caliber... Carolyn Arnold is an author you want to follow." -Fundinmental
"Arnold should be one of your top go-to authors." -Goodreads reviewer
"Don't start a novel by Arnold unless you're planning on staying up late reading. You won't want to put her books down " -Goodreads reviewer
"Arnold is a brilliant writer and I enjoy everything she writes." -Paperback Reading and More
"If you love a good mystery-a good thinker that makes you really think and piece it together-Carolyn Arnold is a must-read author." -Goodreads reviewer
"Carolyn's stories are brilliantly written, entertaining, and fascinating." -Goodreads reviewer
"Carolyn Arnold is my top go-to for a good whodunit] mystery read." -Leels Loves Books
Hibbert & Stiles Publishing Inc, 9781989706145, 978pp.
Publication Date: February 18, 2020