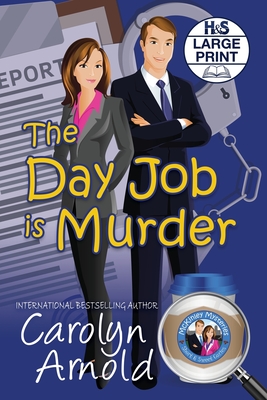 The Day Job is Murder
Paperback

* Individual store prices may vary.
Other Editions of This Title:
Paperback (10/7/2019)
Paperback (10/19/2016)
Paperback (3/22/2014)
Paperback (3/6/2014)
Description
"I absolutely loved this story. It held so many endearing qualities and such a feeling of goodness The characters blended perfectly and the ending was touching. You have got to read it." Goodreads Reviewer, ⭐⭐⭐⭐⭐
Working for the Albany Police Department is murder-not because Sean and Sara are in Homicide but because they can't be a couple as long as they are partners on the job. Feeling handcuffed, it seems that a romance between them is off the table, but one thing life should have taught them by now is nothing ever stays the same. Well, that and where there's an intention, there's a way out. But Sean and Sara never would have seen this one coming...
McKinley Mysteries are short & sweet just like that coffee you crave. Savor the perfect blend of romance, humor, and murder with zero additives such as foul language, graphic violence or sex. These international bestselling cozies are bound to hit the spot and keep you coming back for more. This is an addiction you can afford to have. Get started today.
Readers love
The Day Job is Murder
⭐⭐⭐⭐⭐ "A true cozy mystery. Fun, easy to read and fast moving."
⭐⭐⭐⭐⭐"Loved that it was a quick read when you don't have a lot of time to read."
⭐⭐⭐⭐⭐ "Very entertaining with a few very poignant moments, excellently written."
⭐⭐⭐⭐⭐"A cute little story."
⭐⭐⭐⭐⭐ "An enjoyable read that sets the stage for the rest of the series."
⭐⭐⭐⭐⭐ "The perfect beginning to what will certainly be a wonderful series."
⭐⭐⭐⭐⭐ "Great little book. Enjoyed the mystery and the fascinating twist in the story."
⭐⭐⭐⭐⭐ "Fun and fast reading."
⭐⭐⭐⭐⭐ "Enjoyable characters to follow."
⭐⭐⭐⭐⭐ "Light mystery fun in the workplace."
⭐⭐⭐⭐⭐ "Great book, had me from the first page."
⭐⭐⭐⭐⭐ "Fantastic start to the new McKinley Mysteries series "
⭐⭐⭐⭐⭐ "Whets the readers' appetite for more of Sean and Sara's adventures "
Hibbert & Stiles Publishing Inc, 9781989706305, 174pp.
Publication Date: June 24, 2020