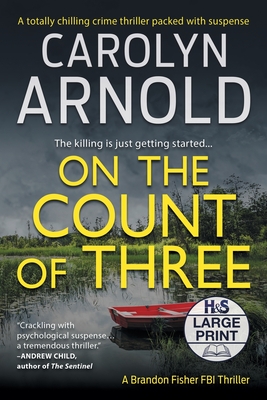 On the Count of Three (Paperback)
Hibbert & Stiles Publishing Inc, 9781989706381, 1012pp.
Publication Date: July 21, 2020
Other Editions of This Title:
Digital Audiobook (7/2/2020)
Paperback (12/4/2018)
Hardcover (12/4/2018)
Paperback (12/4/2018)
* Individual store prices may vary.
Description
Drinking and driving may be deadly in more ways than one...
"Taut, tense, crackling with psychological suspense and bursting with authentic detail, On the Count of Three is a tremendous thriller. Fans of Criminal Minds will love it and be left hungry for more." -Andrew Grant, author of False Witness
FBI Special Agent Brandon Fisher and his team join forces with Miami PD Detective Kelly Marsh to find a missing woman Kelly believes was taken by a serial killer.
From their first meeting, Brandon sees the detective as competition, and this isn't helped by the personal history she shares with his boss. Brandon sees the similarities between Detective Marsh's missing person case and the two cold cases: all three victims served time for vehicular homicide while driving under the influence and disappeared three days after being released from prison-but is that enough to assume the woman has been abducted by a serial killer? Brandon's not so sure and fears his boss may have let his personal connection to Marsh cloud his judgment. Surely there isn't any other explanation for why they jumped into an investigation less than twenty-four hours after the missing persons report was filed. Then again, maybe Brandon is letting his own differences with the detective affect his perspective. If he can't pull himself together, the missing woman may pay with her life-and one of the team may not make it out of Miami alive.
Join the hundreds of thousands of readers who have already taken the plunge into a series that will take you into the minds of the most heinous and disturbing serial killers the world could ever imagine. Buy this international bestselling book today and hunt a serial killer alongside the FBI
What readers have to say about On the Count of Three:
★★★★★ "The book is like having an adrenaline rush."
★★★★★ "A psychological mystery that will have you turning page after page."
★★★★★ "Arnold creates more than a dark, sinister killer needing to be stopped."
★★★★★ "A superb detective thriller."
★★★★★ "Arnold drives up the intensity to the max setting with On the Count of Three "
★★★★★ "This is one book you really don't want to miss reading."
★★★★★ "It feels like you're stepping right inside an investigation with the BAU."
★★★★★ "Every heart-pounding moment will leave you on the edge of your seat."
★★★★★ "A gritty, twisty murder mystery."
★★★★★ "It is raw, gritty and nerve-wracking "
★★★★★ "An exciting, tense, edgy, non-stop dark adventure."
★★★★★ "A gripping story to keep you on the edge of your seat."
★★★★★ "Disturbing and cringe-worthy scenes."
★★★★★ "The characters are well developed in this entertaining read."