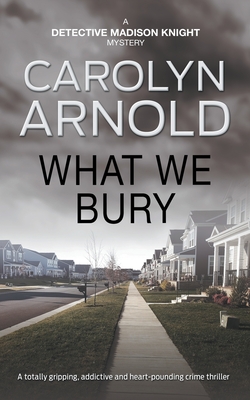 What We Bury (Detective Madison Knight #10) (Paperback)
Hibbert & Stiles Publishing Inc, 9781989706428, 338pp.
Publication Date: October 28, 2020
Other Editions of This Title:
Paperback (10/28/2020)
Hardcover (10/28/2020)
Paperback, Large Print (10/28/2020)
* Individual store prices may vary.
Description
She's dying, and she knows it. If only she can stay alive long enough to leave one last message. As the rain beats against the metal roof, she uses her blood-soaked fingertip to scrawl on the floorboards... The letters GB.
Detective Madison Knight has been house hunting, but a call from her real estate agent has nothing to do with finding the perfect property. She's found a woman's body, stabbed multiple times. Madison arrives on scene and is presented with an unknown Jane Doe and two letters written in blood. There's no murder weapon, and it seems Doe was attacked somewhere else.
As Madison works to find justice for the victim, Madison's own life is put at risk. What she comes to discover is some people will go to extreme lengths to protect their secrets-even as far as murder. But will learning that lesson come too late for her?
Buy this international bestselling book today and join the investigation Uncover clues, follow leads, and catch a cop killer like thousands of readers have done before you.
What readers have to say about Madison Knight:
"Madison Knight is a true renaissance woman-sharp, talented, and unbeatable."-K.J. Howe, bestselling author of Skyjack
"Madison is particularly headstrong and gung ho and this makes for exciting fiction..." -Literary Flits
"Madison Knight is a tough detective, who will let nothing stand in her way to find the guilty." -The Reading Caf
"Madison Knight is an intriguing protagonist. She's independent, strong, capable, intelligent, and overall, a very realistic character." -I Heart Reading
"Madison's character is extremely well-written and realistic. She encompasses what all women should strive to become-an independent thinker, strong-willed, dedicated, and hardworking." -Lynchberg Mama
"Madison is an excellently crafted persona who isn't flawless or ideal. She makes mistakes, she regrets making those mistakes, and tries her best to correct them." -Fanna