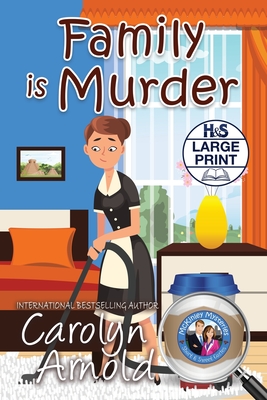 Family is Murder
Paperback

* Individual store prices may vary.
Other Editions of This Title:
Paperback (10/7/2019)
Paperback (10/19/2016)
Paperback (7/6/2014)
Description
"You know that big smile you wear after you just finish a good book? The one that seems to cement the mood for the rest of the day? Well, that's what I felt after reading Family is Murder." Christine Warner, International bestselling author, ⭐⭐⭐⭐⭐
Sean and Sara McKinley put out an ad for a maid, never expecting Sara's birth mother to apply-or at least that's who the woman is claiming to be. While Sean is suspicious of the woman's true identity and her motives, Sara opens her heart to the woman. But when a dead body turns up soon after Sara's supposed mother takes off without so much as a goodbye, they both must question the truth.
Could they have welcomed a killer into their home without even knowing it?
McKinley Mysteries are short & sweet just like that coffee you crave. Savor the perfect blend of romance, humor, and murder with zero additives such as foul language, graphic violence or sex. These international bestselling cozies are bound to hit the spot and keep you coming back for more. This is an addiction you can afford to have. Get started today.
Readers love Family is Murder
⭐⭐⭐⭐⭐ "A fun read, well-written, which will totally entertain you."
⭐⭐⭐⭐⭐ "Better than a TV show "
⭐⭐⭐⭐⭐ "I appreciate the sometimes-unique methods they use to investigate."
⭐⭐⭐⭐⭐ "This series of books is one of the best I have read in a while."
⭐⭐⭐⭐⭐ "The characters and well-rounded and believable and the plot twists and turns to keep you guessing."
⭐⭐⭐⭐⭐ "A great cozy."
⭐⭐⭐⭐⭐ "So easy to read you feel as if you are in the story with them."
⭐⭐⭐⭐⭐ "She has once again outdone herself......What a talent "
⭐⭐⭐⭐⭐ "Easy reading and entertaining."
⭐⭐⭐⭐⭐ "One of those books you'll enjoy reading again and again."
⭐⭐⭐⭐⭐ "Another fun installment in this series "
Hibbert & Stiles Publishing Inc, 9781989706503, 358pp.
Publication Date: September 21, 2020