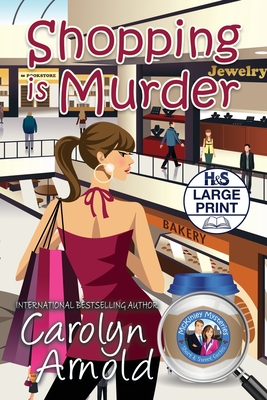 Shopping is Murder
Paperback

* Individual store prices may vary.
Other Editions of This Title:
Paperback (10/7/2019)
Paperback (10/19/2016)
Paperback (10/30/2014)
Description
"This is the perfect mystery to sink into... Keeps you in suspense and turning the pages until the surprising climax." Bixler Reviews, ⭐⭐⭐⭐⭐
The busiest shopping day of the year should be all about the discounts, but Sean and Sara's trip to the mall brings them a murder to solve. Though the police think the man purposely took a flying leap from the second level to the concourse, the widow is adamant her husband would never have done that. But it's Sara's past connection with the widow that has the McKinleys looking into the matter.
The answers aren't coming quickly-not with mall security dropping the ball and no seeming motive for murder. If the McKinleys are going to find out the truth, it will take unconventional means, a little undercover work, and the help of their friend Sergeant Jimmy Voigt. If they're lucky, they just might get this case wrapped up in time for the holidays. Maybe even with a pretty little bow.
McKinley Mysteries are short & sweet just like that coffee you crave. Savor the perfect blend of romance, humor, and murder with zero additives such as foul language, graphic violence or sex. These international bestselling cozies are bound to hit the spot and keep you coming back for more. This is an addiction you can afford to have. Get started today.
Readers love Shopping is Murder
⭐⭐⭐⭐⭐ "A great cozy mystery with a crime fighting duo."
⭐⭐⭐⭐⭐ "Such a fun read "
⭐⭐⭐⭐⭐ "Fun and really pulls you in and you want to keep going to solve the crime."
⭐⭐⭐⭐⭐ "A great relaxing, compelling, mystery."
⭐⭐⭐⭐⭐ "Filled with great characters and wonderful plot twists."
⭐⭐⭐⭐⭐ "Thoroughly enjoyable."
⭐⭐⭐⭐⭐ "A quick, fast-paced read with enjoyable characters, a dash of romance, plenty of mystery and a solid resolution."
Hibbert & Stiles Publishing Inc, 9781989706510, 404pp.
Publication Date: September 21, 2020