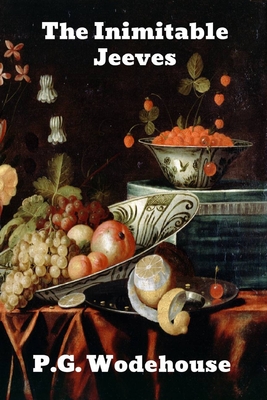 The Inimitable Jeeves
Paperback

* Individual store prices may vary.
Other Editions of This Title:
Paperback (11/27/2020)
Paperback (12/20/2019)
Paperback (5/26/2020)
Paperback (4/12/2021)
Paperback (1/27/2017)
Paperback (4/18/2020)
Paperback (6/16/2019)
Paperback (6/18/2019)
Paperback (5/17/1923)
Paperback (8/17/2019)
Hardcover (5/17/1923)
Hardcover (3/4/2020)
Paperback (3/4/2020)
Paperback (5/22/2019)
Paperback (9/15/2019)
Hardcover (5/10/2007)
Paperback (7/5/2011)
Description
Reginald Jeeves, usually referred to as just Jeeves, is a fictional character in a series of comedic short stories and novels by English author P. G. Wodehouse. Jeeves is the highly competent valet of a wealthy and idle young Londoner named Bertie Wooster. First appearing in print in 1915, Jeeves continued to feature in Wodehouse's work until his last completed novel Aunts Aren't Gentlemen in 1974, a span of 60 years.
Both the name "Jeeves" and the character of Jeeves have come to be thought of as the quintessential name and nature of a valet or butler, inspiring many similar characters (as well as the name of the Internet search engine Ask Jeeves, now simply called Ask.com). A "Jeeves" is now a generic term as validated by its entry in the Oxford English Dictionary. 1]
Jeeves is a valet, not a butler; that is, he is responsible for serving an individual, whereas a butler is responsible for a household and manages other servants. On rare occasions he fills in for someone else's butler. According to Bertie Wooster, he "can buttle with the best of them."
Binker North, 9781989708378, 298pp.
Publication Date: May 30, 1923