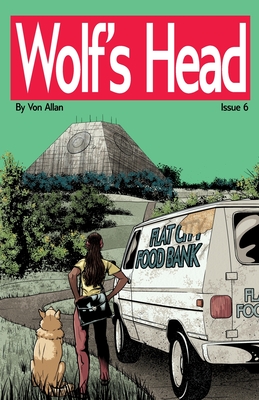 Wolf's Head - An Original Graphic Novel Series
Issue 6: 'New Beginnings' and 'Lost in the Underworld'
Paperback

* Individual store prices may vary.
Other Editions of This Title:
Paperback (11/8/2017)
Paperback (7/17/2018)
Paperback (12/20/2018)
Paperback (5/29/2019)
Paperback (12/30/2020)
Paperback (12/17/2019)
Description
Lauren Greene, her dog Sankō, and the young artificial intelligence she recently befriended have left Detroit and have ventured north to Flat City, Alaska. As Lauren attempts to restart her life, she's confronted with the frustrations of trying to make ends meet in a tough economy. At the same time, she's forced to keep a very low profile in order to safe guard the artificial intelligence from the grasp of the people who want it back... at any cost.
As she does her best to balance all of this, Lauren is confronted by her own loneliness. She left Detroit partly to keep her friends safe, but without them, she's lost. When the possibility comes up to befriend new people, Lauren has to make a choice: does she let her barriers down and take a chance, potentially risking everyone's safety? Or does she keep everyone at arm's length, keeping them safe, but driving them away?
Lauren's situation is made all the harder when she discovers that Billy, a homeless man who lives in a 'tent city' outside Flat, has disappeared. Wanting to help but desperate to keep the artificial intelligence secret, Lauren attempts to find him by herself. Correctly guessing that he went inside Alaska's mysterious and abandoned Safeguard Missile Complex, Lauren begins searching deep inside the Complex for Billy, but stumbles across an abandoned goldmine... and is confronted by a nightmarish creature that can't possibly exist.
Author Biography: Von Allan was born red-headed and freckled in Arnprior, Ontario, just in time for STAR WARS: A NEW HOPE. The single child of two loving but troubled parents, Von split most of his childhood between their two homes and, consequently, spent a lot of time in the worlds of comics and wrestling. He managed an independent bookstore in Ottawa for many years, all the while working on story ideas in his spare time. Eventually, he decided to make the leap to a creative life.

Von currently lives in Ottawa, Canada, with his writer/editor geek wife, Moggy and their husky dog, Corbin.

Von was recently featured in the documentary film I AM STILL YOUR CHILD written and directed by Megan Durnford (http: //iamstillyourchild.com) and produced by Katarina Soukup of Catbird Films (http: //catbirdfilms.ca). His artwork was also featured in a CBC Arts video profile at http: //www.cbc.ca/arts/exhibitionists/as-a-kid-his-mother-s-illness-scared-him-now-he-s-using-comics-to-come-to-terms-1.4281356
Von Allan Studio, 9781989885000, 52pp.
Publication Date: August 26, 2020