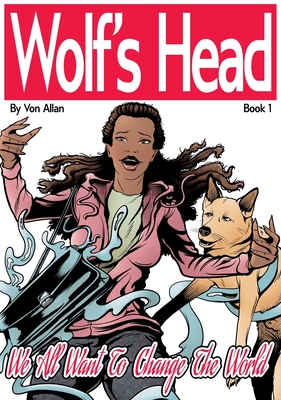 Wolf's Head
Book 1: We All Want To Change The World
Hardcover

* Individual store prices may vary.
Description
Lauren Greene is an ex-police officer who turned her badge in after becoming frustrated with the police force's corruption. She's had enough of violence and is thinking about packing her bags and hitting the road to see how she can make a difference out in the larger world, when her mother Patty shows up at her door with a complication. It turns out that Patty's employer - a secretive military corporation - has created an artificial intelligence to fight humanity's wars. Unfortunately for the corporation, the AI fell in love with Patty's humanity and orchestrated its own escape through her. Giddy with excitement, Patty brings the AI straight to Lauren for help, not realizing the danger she's putting herself and her daughter in. But Lauren has dealt with people like this; she knows what they're capable of and she is terrified. Her fears are realized when she and her mother are confronted by corporate goons who want the AI for themselves and are willing to do anything to get it. As Lauren does her best to keep herself, her mom, and her family safe, the tensions over the AI erupt into violence... and suddenly Lauren is on her own.
The new little life form doesn't want to go back to the corporation and Lauren realizes it cannot be forced to live out its life as a war machine. There is already enough corruption, inequality, and violence in the world; the AI has to have a chance to help humanity - peacefully - while figuring out its own existence. Together with the AI, an eccentric cast of friends and family, and her dog, Lauren must figure out her next steps... while keeping herself alive.
This deluxe hardcover edition collects the first six issues of the ongoing comic book series WOLF'S HEAD.
Von Allan Studio, 9781989885178, 176pp.
Publication Date: October 20, 2021