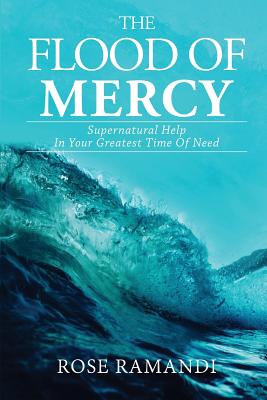 The Flood of Mercy
Supernatural Help In Your Greatest Time Of Need
Paperback

* Individual store prices may vary.
Description
Have you ever made a mistake that you wished you had not made? Have you been in a situation when no one could help? Have you been struggling and wanting to conquer? Well, I have great news for you You, my friend, are fully and completely qualified for God's Mercy

The Mercy of God has the power to raise you above your circumstance and help you to conquer. His Mercy is designed to resolve, remove and even reverse the consequences of your mistakes, so that you never again become the victim of your imperfection.

When no one and nothing is able to help, Mercy can

Through the in depth teachings of scripture, this book will take its readers into a powerful understanding of "Mercy" and its relation to the blood of Jesus. His blood, which cries out Mercy for us, brings a conviction of His power into our hearts, and offers us His body to put on and be clothed. He does this for us so that we never become slaves of fear, but instead, being FREE FROM FEAR, become bound to God's LOVE; never hiding behind our works, but running to Him in full assurance of heart, knowing that His Mercy is His power shown to the weak and helpless when it is needed.

***** This book gives you tools and understanding, about what you need, to overcome your life's most challenging struggles.
***** It reveals a deeper understanding about God's Mercy in your day to day life, so that you can reach your goals and make lasting change to live the best life.
***** The whole purpose of this book is to help to reveal, and give you a missing key to use, to conquer and live a victorious life.
***** By reading this book you should expect to receive many revelations such as the mystery of death and resurrection of Jesus as well as the power in His blood.
***** If you're going through a rough time or battling doubts or unbelief, this is a must-read book for you.

We all have grown up in a world that lives by the reliance upon one's own ability. We have learned to suffer from the consequences of our mistakes. For generations, this way of living has brought fear to mankind, leaving those who are chosen to live as kings, feeling as though their destiny is to instead live as a beggar, in the dirt upon the ground.

God's Mercy is designed to make the impossible possible, because it comes out of the compassionate heart of God. The compassion in His heart moves Him to take an action which brings a help and, in turn, removes your struggles.

This book will enlighten the hearts of its readers with knowledge and understanding about why and how each of us can truly rely on God's Mercy, whenever we are unable to help ourselves. His MERCY is the place where He comes to us like a FLOOD, so that we can experience His COMFORT.

This book will provide a deeper understanding about:

-The everlasting covenant of Mercy
-The power of Mercy in everyday life
-The reason God shows Mercy
-The ways Mercy can be received
-The relation of Mercy with the blood of Jesus
-The effective working of the blood of Jesus
-Mercy as a food that gives life daily
-The help of Mercy in the storms of life

Perfected by Blood, 9781999500009, 168pp.
Publication Date: December 4, 2018