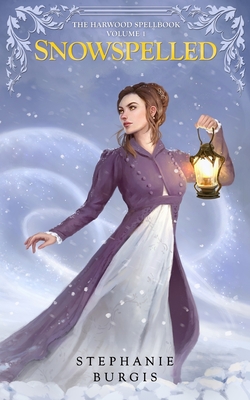 Snowspelled
The Harwood Spellbook Volume I
Paperback

* Individual store prices may vary.
Description
In nineteenth-century Angland, magic is reserved for gentlemen while ladies attend to the more practical business of politics. But Cassandra Harwood has never followed the rules...Four months ago, Cassandra Harwood was the first woman magician in Angland, and she was betrothed to the brilliant, intense love of her life.Now Cassandra is trapped in a snowbound house party deep in the elven dales, surrounded by bickering gentleman magicians, manipulative lady politicians, her own interfering family members, and, worst of all, her infuriatingly stubborn ex-fianc , who refuses to understand that she's given him up for his own good.But the greatest danger of all lies outside the manor in the falling snow, where a powerful and malevolent elf-lord lurks...and Cassandra lost all of her own magic four months ago.To save herself, Cassandra will have to discover exactly what inner powers she still possesses - and risk everything to win a new kind of happiness.A witty and sparkling romantic fantasy novella that opens a brand-new series for adults from the author of Kat, Incorrigible, Masks and Shadows and Congress of Secrets."With its unique twist on the Regency Era, SNOWSPELLED is clever, romantic, and filled with magic. Stephanie Burgis is a fresh new voice and I can't wait to see what she does next. Bring on the sequel "- Ilona Andrews, #1 New York Times Bestselling Author of the Kate Daniels series and the Hidden Legacy series"An adorable romantic novella"- All Things Urban Fantasy"A squee-filled, can't-stop-smiling delight"- Starship Sofa
Five Fathoms Press, 9781999725402, 170pp.
Publication Date: August 26, 2017
About the Author
Stephanie Burgis is the author of Kat, Incorrigible, Masks and Shadows, and The Dragon with a Chocolate Heart. Snowspelled is a witty and sparkling romantic fantasy for adults that opens a brand-new series, The Harwood Spellbook.