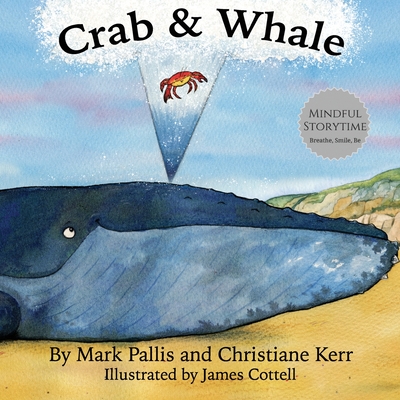 Crab and Whale (Paperback)
a new way to experience mindfulness for kids. Vol 1: Kindness
Mindful Storytime Press, 9781999937805, 32pp.
Publication Date: February 26, 2018
* Individual store prices may vary.
Description
A simple, funny and heartwarming story that subtly introduces the skills of mindfulness to children (ages 2 - 8).
Featured on Mindful.org 'Seven Mindful Children's books' August 2018.
Through this lovely story, children will find themselves becoming more aware of their own bodies, breath, emotions and surroundings without even realising it. Based on
over 20 years experience by mindfulness for kids and yoga for kids expert Christiane Kerr, Crab and Whale is carefully designed to help even the most energetic children find a moment of calm and focus. Also includes a special mindful breathing exercise and affirmation for children. Introduces mindfulness to kids aged 2 to 8Based on 20 years' experience working with childrenPerfect for home and classroom useIntroduces theme of kindness
From the reviews
"A ground breaking book about mindfulness for small children"
"Brilliant story and techniques... Recommended by a friend for my child struggling to get to sleep as he was worrying. Its a Great book, that you can read again and again. Definitely a book I would recommend."
"A truly heartwarming story celebrating kindness and gently introducing children to the life-changing power of mindfulness." - Sir Anthony Seldon, former Headmaster & mindfulness in schools pioneer
"My 5 year old loved this story, and it gave us the opportunity to explore how we could bring kindness into our life. We now practice breathing together." Sarah Mackenzie, Parent
"A lovely way to introduce mindfulness to early years and KS1" - Rosie Beharrell, Primary School Teacher
Well pitched introduction to Mindfulness & a good story too. My god daughter (7) loved this book - it may be aimed at younger children but obviously appeals to a much wider audience as I really enjoyed it too
Very charming and gentle tale with lovely illustrations - I liked the way it cleverly but simply integrates the idea of mindfulness and the joys of being kind. Looking forward to reading it to my grandchildren.
"This is a charming introduction to the skills and philosophy of mindfulness for little people. We purchased this for our 2 year old. He loves the story and joyful illustrations. We particularly like how the mindfulness techniques embedded into the story line are accessible to young children, for instance the page on bringing awareness to breath when the crab is helping the beached whale.
Highly recommended to anyone wanting to introduce their children to mindfulness.