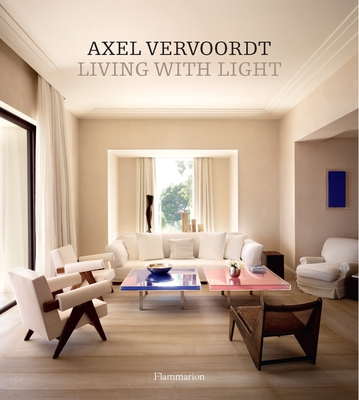 Axel Vervoordt (Hardcover)
Living with Light
Flammarion, 9782080201591, 264pp.
Publication Date: October 22, 2013
* Individual store prices may vary.
Description
Following the best seller Axel Vervoordt: Timeless Interiors, this volume of twenty new interiors expands on the Vervoordt vision for creating exceptional homes that combine natural elements, antiques, and fine art. The art of harmonious living is extolled in this volume through twenty bespoke interiors designed by the Axel Vervoordt company. Each room incorporates natural elements—light, water, metal, wood—blended with a modern aesthetic and punctuated with fine art. The Vervoordt concept of the home is revealed through a refined balance between art and nature to create timeless living spaces. The range of featured properties includes homes by the sea as well as in urban and rural locations, demonstrating a breadth of styles possible within the essential Vervoordt design principles. Photography by Laziz Hamani brings into focus both the unique design details and the carefully constructed interiors that fuse to create each striking setting. These exceptional residences are rich with inspirational ideas to incorporate into your own home so that you can celebrate your living space in the singular Vervoordt style.
About the Author
Axel Vervoordt is an internationally acclaimed antiques and art collector and dealer based in Belgium. He has organized numerous exhibitions around the world, including several at the Palazzo Fortuny in Venice. Michael Gardner is an American writer and essayist whose work has been published in various anthologies and American literary journals. He contributed to At Home with May and Axel Vervoordt: Recipes for Every Season (Flammarion, 2012). Laziz Hamani is a photographer who has worked on prestigious advertising campaigns. Several exhibitions have been devoted to his work as an artist. His photographs appeared in Axel Vervoordt: The Story of a Style and in Axel Vervoordt: Wabi Inspirations (Flammarion, 2010).
Praise For Axel Vervoordt: Living with Light…
"The renowned antiques dealer and interior designer, celebrated for fashioning refined spaces that present a mix of contemporary art and Old Masters, has compiled this gorgeous book examining the importance of light and space." ~Architectural Digest

"His previous book, Timeless Interiors, has become a cult classic. His new one, Living With Light will surely give devotees another case of the vapors. Vervoordt is drawn to antiques with great character, and he gives them ample, nearly worshipful room to shine." ~The New York Times

"Axel Vervoordt's new book Living With Light is simply stunning. It features page after page of perfectly edited spaces with a few key accessories, gorgeous detailing and art. I love how he takes such a simple nuetral space above and gives it a unexpected pop with those lucite coffee tables. This gorgeous book is one I will turn to again and again if only to dream of having a space like this." ~AStylistsLife.com

"…Vervoordt continues to dazzle with his seeming simplicity…but in reality, it's a forceful commitment to absolute harmony and beauty." ~PaperCity

"...Axel Vervoordt is the designer that other designers bow down to time and again. His style is simple and spare but mixes antiques and modern pieces perfectly." ~Habitually Chic

"…calm yet eclectic interiors lavished with natural light…" ~New York Cottages & Gardens

"This is an elegant, sophisticated, refined book. Add this to your collection of design books, and look at it as a master class in restraint and depth, and how the play of light works in shaping a design." ~thevisualvamp.blogspot
 
"This inspiring and higly expressive volume is a series of interiors around the world—that present very clearly the concept of light and their effect on interiors." ~Style on Salonist
 
"Axel Vervoordt: Living with Light is truly a standout. His ability to mix the old with the new into gorgeous and harmonius interiors is truly on display here and it's a much needed text book for any interior designer who wishes to study a rare master of European design." ~Chameleon-interiors.blogspot