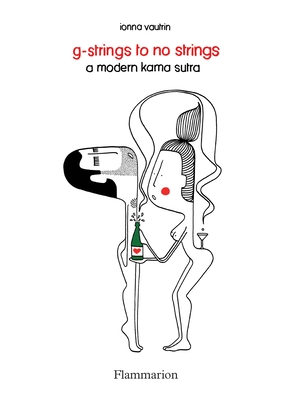 G-Strings to No Strings (Paperback)
A Modern Kama Sutra
Flammarion, 9782080203267, 144pp.
Publication Date: September 12, 2017
* Individual store prices may vary.
Description
Playful and saucy illustrations celebrate more than ninety shades of contemporary lovemaking; they feature pop culture icons from Kim Kardashian West and the French maid to Star Wars and Baywatch.
 
A chic and exuberantly modern take on the Kama Sutra, this erotic and stylish book with rounded corners and red-tipped pages is the perfect gift for any occasion when you want to turn up the heat: for lovers looking to spice up a long-term relationship or spark a new one, for bachelorette parties or risqué wedding favors, and for Valentine's Day or as a novel stocking stuffer.
 
Playing on icons of pop culture—from Batman and Catwoman to (Sl)Easy Riders, from feathered cabaret girls to vampires, and from bedside nurses to firemen—engaged in activities that range from pole dancing to bondage to solitary romances, this book has something to satisfy every fantasy.
 
Acrobats, dancers, matadors, athletes, musicians, roller skaters, tightrope walkers, trapeze artists—these are a few of the superheroes presented in the universal hetero- and LGBTQ-friendly love scenes.
 
Ionna Vautrin's erotic aphorisms provide the reader with a myriad of humorous perspectives on the infinite possibilities for reveling in their romantic passions.
About the Author
 Ionna Vautrin, an industrial designer, worked for the Camper shoe brand, designer George J. Sowden, and Ronan & Erwan Bouroullec before opening her own studio in 2011. She has collaborated with many brands including Christian Dior, Foscarini, and the French TGV. In 2011, she won a design award from the city of Paris.