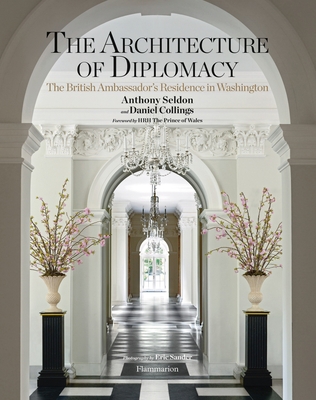 The Architecture of Diplomacy (Hardcover)
The British Ambassador's Residence in Washington
Flammarion, 9782081299023, 236pp.
Publication Date: April 23, 2014
* Individual store prices may vary.
Description
'The Residence is a beautiful place ... and your ambassadors use it well. It makes a big difference if you have an Embassy that is some kind of artistic expression, which therefore recalls the country's eminence.'
Dr Henry Kissinger, US Secretary of State, 1973-7
 
 
Since opening its doors in 1930, the British Ambassador's Residence has been considered the premier diplomatic address in Washington. A neoclassical English country house with influences from American Colonial  architecture, the Residence was built when the great British architect Sir Edwin Lutyens was at the very peak of his powers. His only building in the United States, its majestic interiors, exteriors and gardens in the English style have been delighting Washington's social and political elite for over eighty years. In this book, Anthony Seldon and Daniel Collings explore both the genius of Lutyens' design for the Residence and the rich history of Anglo-American relations that has unfolded within its walls. The house and its extensive gardens are lavishly illustrated by specially commissioned photography, while striking images from the archives bring to life important events from its past. In 1939, the Residence bore witness to the first ever visit by a British monarch to the United States. King George VI and Queen Elizabeth hosted a garden party there, Washington's social event of the decade, which was attended by the great and powerful of American politics, finance and high society. Through such prized events, and the skill of successive ambassadors, the building helped create and then embody the 'special relationship' between Great Britain and America. From Winston Churchill's rambunctious visits during the Second World War to the dark days of Vietnam and the rejuvenation of the relationship during the Thatcher-Reagan period, the authors take the reader behind the elegant gates on Massachusetts Avenue deep into the corridors of power. This book offers an intimate and fascinating history, featuring previously untold stories of visiting royalty, presidents, prime ministers, and even the Beatles.
About the Author
ANTONY SELDON is a historian and one of Britain's most distinguished political commentators. His published work includes the leading biographies of Gordon Brown, Tony Blair and John Major.
DANIEL COLLINGS is a political historian and director of U.S. research for Margaret Thatcher's authorized biography. He is based in Washington.
ERIC SANDER's photographs have been published in numerous magazines worldwide, including Smithsonian, Life, Time, Newsweek, Le Figaro Magazine and Point de Vue, and in more than fifteen books.
Praise For The Architecture of Diplomacy: The British Ambassador's Residence in Washington…
"…photography that lavishly illustrates the house and its extensive gardens, this book leads the reader behind the elegant gates on Massachusetts Avenue deep into the corridors of power. The book combines a masterful account of the history of the house and gardens with previously untold stories of visiting royalty, presidents, prime ministers and celebrities, to show why this Residence, its architecture and gardens occupy such a special place in the diplomatic history of the United Kingdom in the United States. I've been fortunate to visit the Embassy and it is as spectacular as this sublime book shows. If you're a Brit in America, or an American in the UK, this book should have a place in your collection." –PoliticsandStyle Blog

"With a forward by HRH The Prince of Wales, the book not only delves into the great architecture and work behind Lutyens' design but also the untold stories of important events from the past and people who visited throughout history." -Veranda

"With many dozens of historical photos of politicians and statesmen, as well as beautiful contemporary shots of the building's interior, exterior, and gardens, this is the book to whet the whimsies of anyone who cares a whit about history, architecture, Anglo-American diplomacy, gardening, and exactly how to do a perfect coffee-table book." –Foreword Reviews
 
"Written by historian Anthony Seldon and Daniel Collings with photographs by Eric Sander, the book offers a fascinating history of the home and an in-depth look at how Lutyen's plan took shape." –Home&Design

"...an astonishing new book that has recently been released...the book contains inspirational images that won't disappoint: definitely add this tome to your design library!" -ArchitectDesign.blogspot

"…full of lavishly produced photographs of the building, its private spaces and its English gardens…" –Dallas News

"The lavishly illustrated Architecture of Diplomacy is both a design and historical delight…" -Array
or
Not Currently Available for Direct Purchase