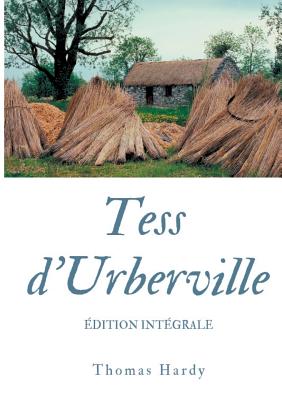 Tess d'Urberville
texte intégral
Paperback

* Individual store prices may vary.
Other Editions of This Title:
Paperback (10/10/2018)
Paperback (2/26/2020)
Paperback (11/17/2013)
Paperback (1/3/2020)
Paperback (7/15/2020)
Paperback (1/1/2014)
Paperback (1/9/2021)
Paperback (1/9/2021)
Paperback (3/10/2020)
Paperback (6/11/2018)
Paperback (12/9/2019)
Paperback (2/24/2016)
Paperback (1/8/2013)
Paperback (4/4/2010)
Paperback (9/26/2019)
Paperback (1/30/2021)
Description
Tess d'Urberville est un roman de Thomas Hardy, publi en 1891 en poque victorienne. En France, il est paru pour la premi re fois en 1901. Il est initialement paru sous une version feuilletonesque et censur e, publi e par le journal illustr britannique The Graphic. Jeune paysanne innocente plac e dans une famille, Tess est's duite puis abandonn e par Alec d'Urberville, un de ses jeunes ma tres. L'enfant qu'elle met au monde meurt en naissant. Dans la puritaine soci t anglaise de la fin du xixe si cle, c'est l une faute irr missible, que la jeune fille aura le tort de ne pas vouloir dissimuler. D's lors, son destin est une descente aux enfers de la honte et de la d ch ance.... Thomas Hardy (1840-1928) signe avec cette oeuvre pessimiste, o la richesse des tableaux rustiques du Wessex ne fait que souligner la noirceur de l'univers social, un des chefs-d'oeuvre du roman anglais, magnifiquement port l' cran par le cin aste Roman Polanski.
Books on Demand, 9782322133215, 434pp.
Publication Date: February 6, 2019